Welcome to meal planning Monday!  The best part about doing meal plans on a 2 week basis is that I only have to fuss with this job twice a month or so.   In the past I have even done my meal planning and shopping on a monthly basis, but it just isn't practical in this season of life.  So every 2 weeks it is!
I've been a little disappointed with some of the crock pot recipes I've found on Pinterest lately.  My general expectation for a crock pot recipe is that it be low maintenance.  A few ingredients thrown into the pot in the morning, and then forgotten about until the delicious aroma makes us hungry for supper.
Some of the recipes I've found lately have been fussy, with extra steps throughout the day.  Or it winds up being a glorified casserole that you throw into the crock pot long enough to melt the cheese.
Maybe that's a crock pot recipe to some people, but it doesn't classify as one in my book!!
So I'm going to try to read through the recipes a little better before I write them into my monthly meal planner.
Lately I've not done a great idea with keeping up with coupons.  I'm trying to get back into it.  It's important to only print out or clip coupons for items to buy regularly.  Don't get caught in a trap of buying items just because you have a coupon!
Our 2 Week Meal Plan
Breakfast:  I had big plans  for delicious breakfasts over summer break.  But if I'm being honest, the kids are happiest with cereal or toast.  Oh, well.  
cereal
bagels
pancakes
toast
Lunch (with sides of fresh fruit, cheese or yogurt, and one junk food)
sandwiches  (PB&J, Nutella, PB&honey, lunchmeat, apple butter)
quesadillas (The kids can make these themselves using our quesadilla maker.  Gotta love that!)
mac & cheese
grilled cheese
chips and salsa
leftovers
salads
Supper  (with sides of potatoes, pasta salad, chips and fresh cut veggies or salad)
grilled chicken x 2
hamburgers x 2
brats & metts x 2
chicken slop (chicken breasts topped with stuffing, sour cream, and cream of chicken soup in the crock pot)
pulled pork sandwiches
salads
BBQ pulled chicken
roasted whole chicken
tacos
leftovers
leftover casserole (using anything I can find in the fridge)
[Tweet "Get a 2 week meal plan with all meals and snacks covered here."]
We like to have an afternoon snack each day.  We also have one in the evening either at a ball game or while playing in the backyard. Our snacks and extras include:
fresh fruit
cookies
ice cream
popcorn
s'mores
candy
Be sure to also check out these 10 Wonderful Summer Potluck Recipes; Perfect for a Crowd!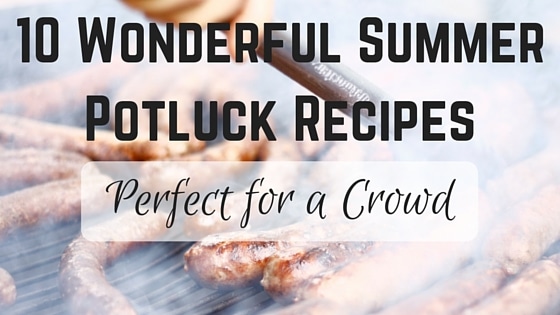 Sharing over at:
Share your favorite must have recipe!