Shouldn't there be more to life than keeping up with bills?
It would be nice if you could fill up your gas tank without having to check your account balance first.
 To live comfortably every day of the month.
Because the frustration of being so dependent on the next paycheck
is getting to you.
You know it's time to get serious about saving money.
You just need a little better organization.
Some new money saving ideas.
Something doable,
something that will make your savings more consistent.
You deserve better.
You Need Direction
It's not like you've been irresponsible.  You've always had the best intentions to save money.
But now you know it's time to take control of your money before something catastrophic happens.
You just need some simple tips that you can put in place without spending hours on a new "program" that you'll never follow through on anyway.
Introducing…
500 Ways To Save Money:
Build A Cash Jackpot for the Best Things in Life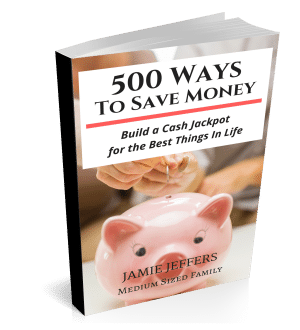 If you're looking for simple money saving tips that will help you get a grip on your spending…
If you want to save up for a newer car or even for retirement…
If you just love collecting new money saving tips that you haven't already tried..
If you don't want to be overwhelmed by money saving ideas that don't even apply to your life…
…then this is the book for you!
What's In The 500 Ways To Save Money eBook?
Your kid's birthday is coming up...
You'll simply click the "Birthday" tab and find a tip like…
Piñatas are expensive! Save by shopping at Dollar General instead of a party store. Or make your own using paper mache.  Fill it with clearance candy from the last holiday!
Haven't been on a date night in years?
There are plenty of tips for making it more affordable!  Such as…
Find local events for some free fun. My Hubby and I love politics, so we got a kick out of attending local debates at election time. You might find free concerts and more!
Before long...
you'll form a new "outside the box" way of thinking about spending!
Stop spreading your money everywhere! If you're paying a little extra on this debt and a little extra on that debt, you'll find it hard to gain real traction. Start sending all of that extra just one place.
Here's what readers are saying…
This book shows great ways for everyone to save that extra buck here and there, not just the hardcore minimalist.  I liked that I could just choose the tips that worked in my own family.  We're still watching the savings add up!                                           ~Jacob
I printed it, put it into a binder, and have been highlighting things I want to put into place in our household. I also marked what we are already doing almost like a checklist. Helps me realize how hard we're trying even if we're only making baby steps at this point.                    ~Belinda
These money saving tips were easy, and there were so many I hadn't thought of before!       ~Angie
Frequently Asked Questions (FAQ)
What happens after I purchase?
You'll receive a download of the book that you can start reading right away! Check your email for a message from Medium Sized Family that's titled 500 Ways to Save Money: Build a Cash Jackpot for the Best Things In Life. In that email you'll receive a link to the book.  Simply click on it and you can start reading right away on your phone or computer!
What if I didn't get that email?
Do I need a tablet to read this ebook?
Nope! You can read it right on your phone or computer.
500 Money saving tips is too many!
No problem! The table of contents has clickable sections so you can jump right to the part that applies to your life.