There's nothing quite as cozy as cuddling up under a blanket by a warm fire with a pair of cute, snuggly socks and a cup of hot tea.  The warm fuzzy feeling is wonderful enough to make even a warm weather girl like myself enjoy the season.
Gift for Tea Lovers
I made this box of teas for myself, but I think it would make a wonderful gift for the tea lover on your list!  Think of it this way; you're giving the gift of a warm cozy evening by the fire.  Doesn't that sound nice?  And the best part is that this can be a very frugal gift, but one that would be very appreciated.
There is a wide variety of tea flavors available in most grocery stores these days.  While I do crave simplicity in many areas of my life, it is nice to choose from different flavors of teas.  You can match your tea to your mood or needs for that particular time.
In my own collection, I have:
This is a simple list of suggestions to start you out.  You will want to choose your own favorites.  If this is a gift for someone, be sure to consider their tastes. If you aren't sure, get a variety.  There is sure to be something in there that they will enjoy!
Putting this box together was pretty simple.
First, I took my teas out of their boxes and put them into mason jars for a prettier presentation.
Then I used a canning lid as a stencil to cut out part of the box lid so I would know what type of tea was in each jar.  I then placed the cardboard "label" into a ring with a used (but clean) canning lid.  That stabilized it and make a better top for the mason jar.  Since this lid won't need to seal, it's fine (and frugal!) to use old lids from other home canned foods that we have emptied.
Last year, I found this very pretty box at my local dollar type store (Dollar General/Family Dollar/etc) that fit my mason jars perfectly.  If you don't have a similar store in your area, you may be able to fit your jars into a larger photo box.
Pint-sized mason jars seem to fit 20 tea bags pretty well.  Be sure that your jars will fit into the box you use.  Pint jars measure 5″ tall and 2 3/4″ across.
My box is 11 1/2″ wide, 6 3/4″ deep, and 6″ tall.  It fits 6 pint jars with room to spare for extra free samples and anything else I like to tuck in there.
Try a Twist
There are other ways to put together your box of teas.  If your giftee prefers black tea, that's ok.  Include regular black tea bags and make the simple syrups featured in this post to go along with it.
You could also fill the jars with different flavors of hot cocoa instead.  Mint, dark, marshmallows, etc.  Or even warm apple cider packets.
This frugal box of teas is the perfect gift for tea lovers on your list.
Don't forget to make one for yourself while you're at it.  Don't you deserve to cuddle up with a hot cup of tea, too?
If you are looking for more Christmas gift ideas, I have a whole series of 7 Days of Finding Money for Christmas Gifts that you will want to check out!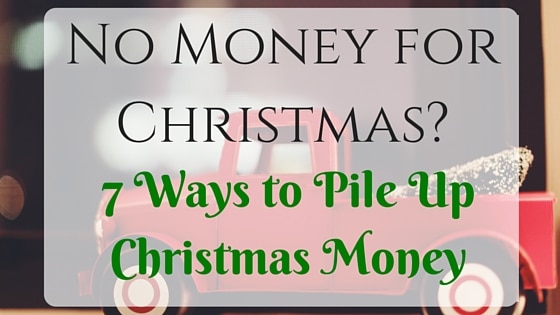 I'm always adding frugal gift ideas on Pinterest, so follow me for more ideas.
Follow Medium Sized Family's board Crafty Christmas Gifts on Pinterest.
Are you a tea lover?  What's your favorite flavor?
Summary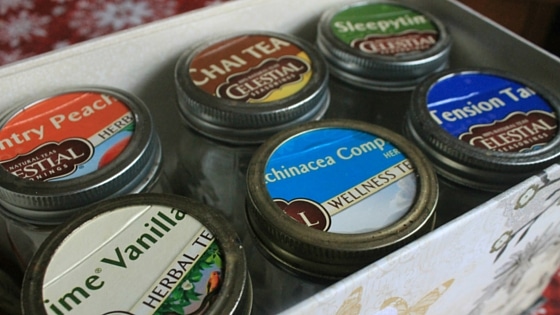 Article Name
Frugal Gift for Tea Lovers: How to Make a Box of Teas
Description
A box of teas is the perfect gift for tea lovers in your life! Give them a variety of flavors to try. It's the gift of cozying up on the couch on a cold winter night!
Author