These delicious grill recipes for a crowd are cheap and easy. Your family will devour these grill out foods!
Having a family of eight means you're cooking for a crowd every, single, day. So I figured I might as well track what we're grilling this summer and share it with you.
Because who doesn't need a nice, tidy list of supper ideas, especially on a hot day when your brain is pretty well fried?
Well, here it is. You'll definitely want to pin this one for later so you can find it again when you're too tired to make decisions.
Grill Recipes For A Crowd That Your Family Will Devour
Let's start with the classics.
Just because hamburgers and hot dogs are classic grill food doesn't mean they have to be boring!
Try these unique ways to serve old favorites.
Hamburgers are probably an obvious choice, but this list of 23 ways to stuff or top burgers by Snappy Living will make your grill out more fun.
Kick your hot dogs up a notch with these awesome Build Your Own Hot Dog Bar ideas from Bake It With Love.
Beer Brats in Sauerkraut from KDKitchen.
Italian Sausage Pizza Burgers by Kudos Kitchen By Renee.
Pork On the Grill
The Best Sweet and Savory Grilled Pork Chop Marinade Recipe from Medium Sized Family
Quick and Easy Grilled Ribs from The Kitchen and a Latte
Grilled Pork Steaks From Bake It With Love
Chicken On the Grill
Grilled Buffalo Chicken from The Diary of a Real Housewife.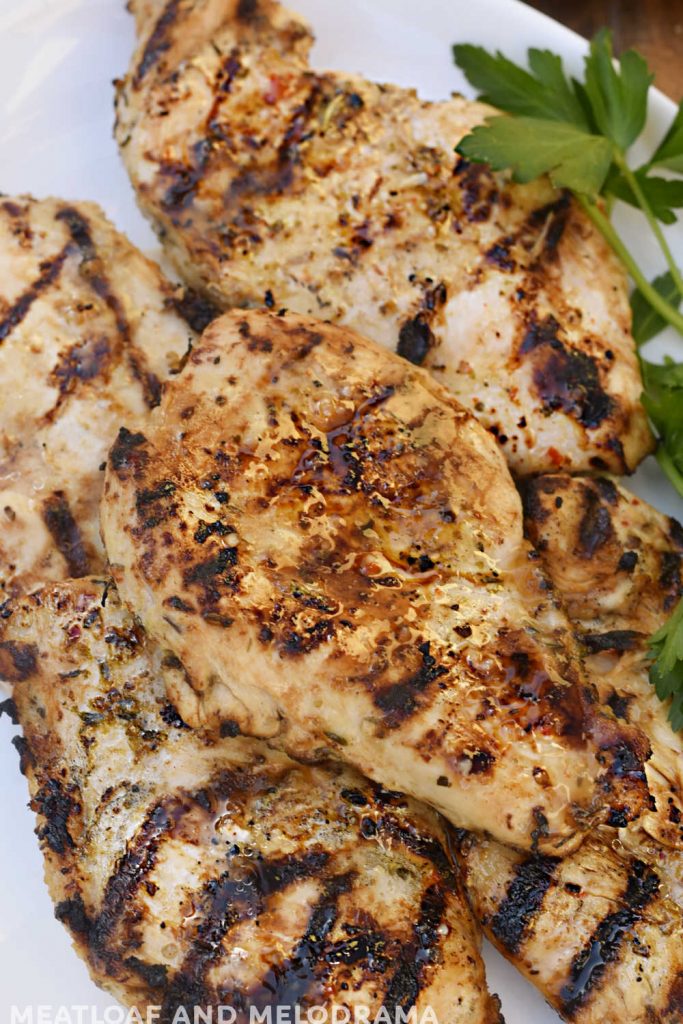 Italian Dressing Grilled Chicken from Meatloaf and Melodrama.
No permission to share a photo for this one, but a friend highly recommends it!
The Best Grilled Chicken Marinade from Happily Unprocessed.
Grilled BBQ Chicken from Flavor The Moments.
Beer Can Chicken on the grill from Dinner at the Zoo.
I love that you can use cheaper cuts of chicken for this one!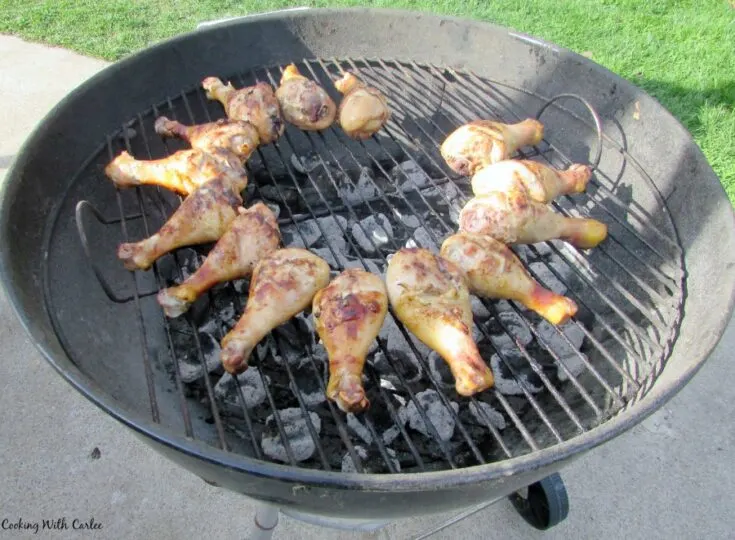 Tequila Lime Grilled Chicken from Cooking With Carlee
Kabobs and Foil Dinners On The Grill
I hesitated to include kabobs in a roundup of easy recipes for a crowd, BUT this one has great ingredients.
And if you let the guests assemble their own kabob, you'll have less waste (they'll only use ingredients they like) AND less work.
Chicken Kabobs from Simple Joy.
Grilled Sausage and Veggie Foil Packets from My Gluten Free Kitchen.
Sides On The Grill
Grilled Bacon Wrapped Pickles from Medium Sized Family.
Best Grilled Potato Wedges from The Kitchen and a Latte
Grilled Garlic Bread from The Toasty Kitchen
Grilled Corn On the Cob With Creamy Avocado Dill Dressing from Happy Kitchen
Easy Grilled Avocados by A Couple Cooks.
Grilled Asparagus In Foil from The Toasty Kitchen
Desserts On The Grill
Grilled Peaches with Cinnamon from Dinner at the Zoo.
Grilled Apple S'mores from The Toasty Kitchen
These cheap and easy grill recipes for a crowd will be a hit at your next backyard bbq!
Looking for more ideas?
Try 23 of the perfect easy summer desserts for a crowd.
The 10 best summer potluck recipes.
Or these 25 recipes that are perfect for hot days.
Be sure to pin this for your next party!