Jump to Recipe
Looking for an easy grilled pork chop marinade that's both sweet and savory? This is the perfect recipe, and it's done in no time!
Pork chops are one of those things that can be tricky to cook just right.
Sometimes they're cut thick, sometimes thin.
They tend to dry out too easily.
It took me forever to find a sure fire way to serve them that everyone loves. But this marinade? This is the one.
It's the best way to grill up juicy, delicious pork chops that everyone in my family of eight absolutely devours.
The Best Grilled Pork Chop Marinade You'll Want To Serve All Year Long
This is where we get to the part where I either tell you a long story about the history of pork chops, OR I give you the secret tips to making this recipe work.
Well, this recipe is pretty foolproof, so you don't have to use any secret tips.
So instead, here are some useless tips about pork chops and this recipe.
Grilled Boneless Pork Chop Marinade vs. Bone In Pork Chop Marinade
This grilled pork chop marinade is gonna taste great with either type of pork chops, so go for whatever is on sale this week.
Let's be honest, you're cooking for your kids and spouse, not for some fancy chef you saw on TV that one time.
Bone in might give you more flavor, but if those puppies cost a dollar more per pound, why spend that money?
I've never had an 8 year old say "Gosh, Mom. These pork chops taste ok, but the ones with the bone in them have deeper flavor notes."
Nope. He's gonna smother that pork chop in ketchup no matter what you serve.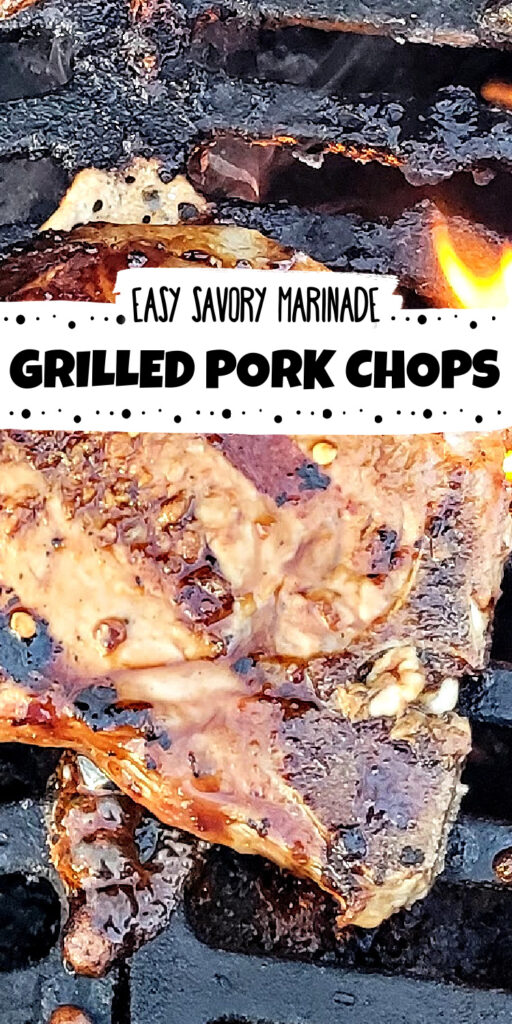 Here's A Blurry Picture Of Our Delicious Grilled Pork Chop Marinade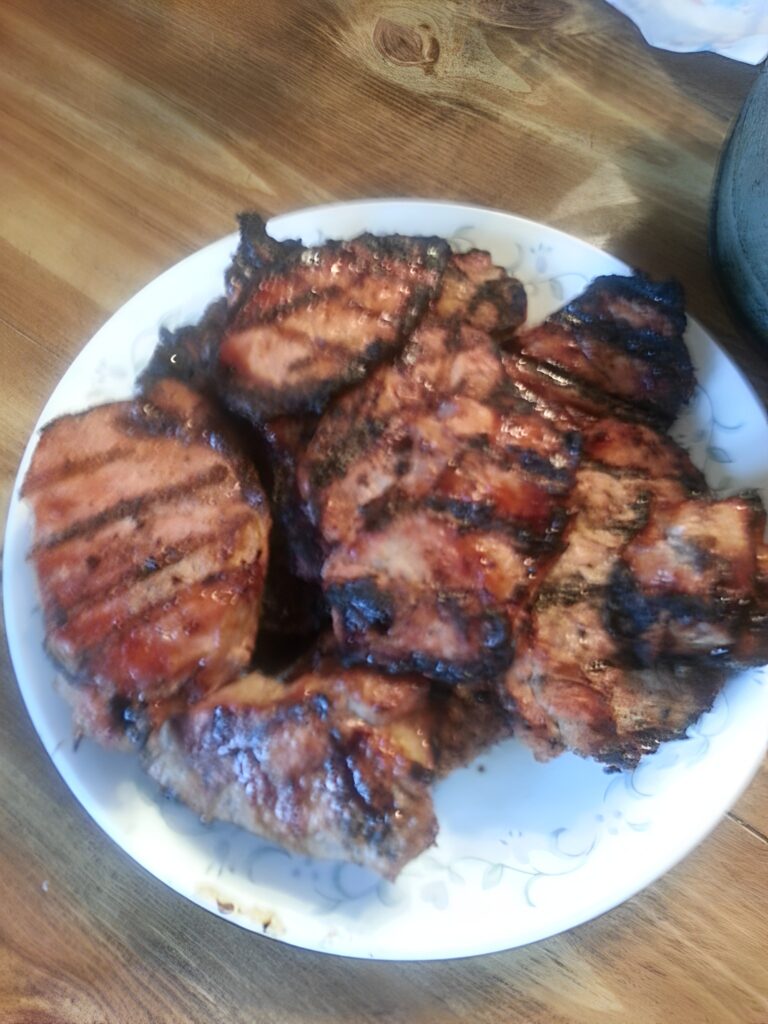 Now I guess I have a good excuse for making this recipe again soon, so I can get better photos.
My family devoured these chops, by the way, so even if it looks a little blurry, it tastes delicious!
A Fun Story About Pork Chops
Actually, I don't have one.
I asked my husband to come up with one, but he said he only has a story about lamb chops. And I said, that's not helpful, as this is a post about pork chops. But he came up with nothing.
But remember when you could buy pork for really cheap back in the day? That was great.
Just Give Me The Recipe For That Grilled Pork Chop Marinade Already!
Alright, alright…here it is!
Sweet and Savory Grilled Pork Chop Marinade
Ingredients
1/2

c

honey

1/4

c

soy sauce

1/4

tsp

red pepper flakes

1/4

tsp

black pepper

1/2

tsp

salt

8

pork chops, 1/2" thick

1/4

c

oil such as vegetable, canola, or olive
Instructions
Combine your honey, soy sauce, peppers, and salt in a bowl. Pour into a bag, or use a bowl large enough to hold your pork chops for the marinade.

Put aside 2 Tablespoons of marinade for glazing during cooking.

Brush both sides of your pork chops with oil.

Drop chops into bag or bowl of your marinade.

Let sit for as little as 10 minutes or as long as a few hours.

Preheat your grill, make sure you won't run out of propane midway through.

Grill your chops on one side for 4 to 5 minutes, or until slightly charred. Turn chops over and brush with reserved marinade. Cook for 3 or 4 minutes, or until done.