Inside: Inexpensive thank you gifts are just what you need to keep your volunteers going. They're amazing, and they need to know it!
We all know that one person who works tirelessly to volunteer and give, give, give.  If you're lucky, several people come to mind!  They don't do it for money or appreciation.  But you know what?  Appreciation never gets old.
You don't have to give them a big gift card to a fancy restaurant.  Little touches go a long way when it comes to brightening someone's day.
And if you got tasked with getting a pile of thank you gifts for everyone who volunteered at the school this year, no worries. This list should help you get the job done and stay inside the budget!
So even if you're pinching pennies or going through a #yearofno, you can still find ways to make the good people in your life feel valued.  After all, no one likes the division in people that's in the news every day.  You can bring people together, and it has to start in our small communities.
Today, let's come up with some ways to make those people that go way beyond the call of duty feel appreciated.  We're talking coaches, teachers, volunteers, staff members, coworkers, church helpers, and more!
20 Fantastic (But Inexpensive) Thank You Gifts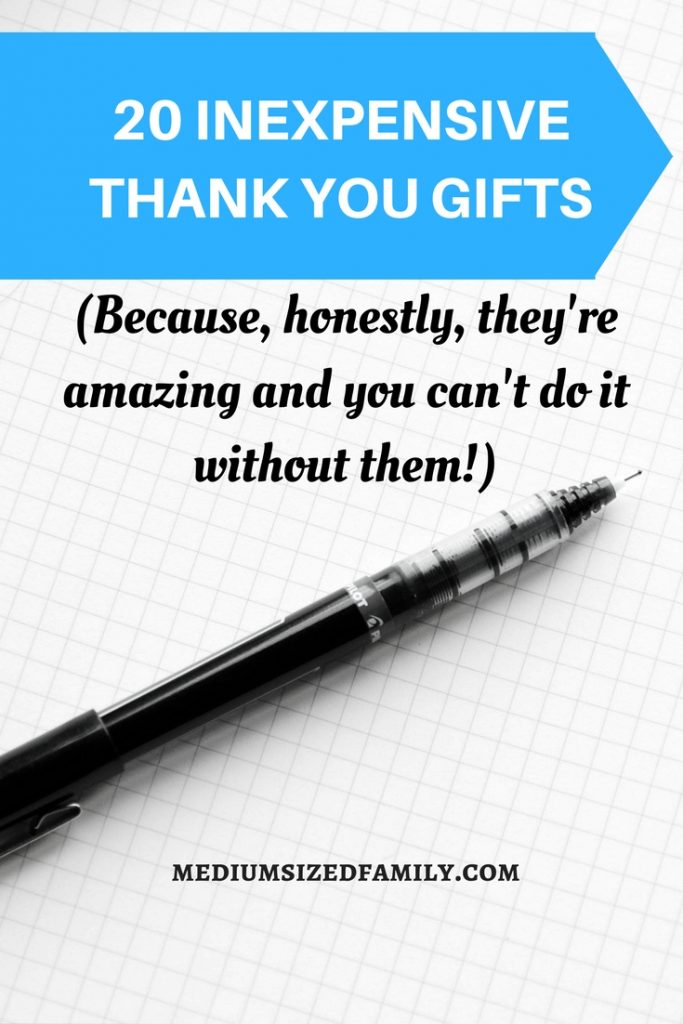 Physical Gifts
No, you don't have to tie a bow on a gift for it to be appreciated.  But sometimes, you want to hand them a gift as a visual thank you.  Nothing wrong with that!  Try these fun thank you gifts.
 A pot of flowers (whatever fits the budget).
Aromatherapy stress relief dough.  I can't think of anyone who couldn't use this!!
A cup of their favorite coffee or tea from a special coffee shop.
Custom engraved stamp.  (Especially useful if they have to write the same thing over and over all day!)
Pick up their favorite candy bar and use this free printable to do the talking.  
Stress relief essential oils.
Bubble bath and scented candles.
A special t-shirt just for volunteers (like this one)
A small care package with chapstick, hand sanitizer, and a mini pack of Kleenex (especially great for the cold months!)
These inexpensive thank you gifts will make them realize how much you appreciate all they do.
Click To Tweet
Gestures
Saying thank you doesn't have to create a new line item in your budget.  In fact, it's often better to give a little time than money when it comes to saying thanks!  Try these ideas.
Organize something that would make their day easier.
Save them a special parking spot.
Plaster their work space with post it notes full of your favorite things about them.  Or cover a poster board and leave it where they'll find it.
Create a video.  Have a variety of people who are touched by this volunteer talk about what makes them special.
Find out if your local media stations honor volunteers and enter them in contests.  
Use their name to write an acrostic poem.
Spotlight a volunteer in your newsletter or on signs outside your building.
Leave a note for them each morning with a different inspirational quote.  Try these.
Snap photos of them doing volunteer work and compile them in a fun collage.
Tell them a story of how they inspired you to pay it forward.
Any of these inexpensive thank you gifts are just right for showing the appreciation you feel for those fantastic people in your life.
The best part is that you can afford to do as many of these as you please!
Want to keep spreading some good?  Let's talk about using words to spread acts of kindness.
What's the best thank you token you've ever received?
Summary
Article Name
20 Inexpensive Thank You Gifts (Because You Treasure All They Do!)
Description
Inexpensive thank you gifts are just what you need to keep your volunteers going. They're amazing, and they need to know it!
Author