Every August, we celebrate a little here at Medium Sized Family. This year, the blog turns 4 years old!
As a stay at home mom, I just love blogging.
For one thing, the accountability from this blog allowed our family to pay off thousands in credit card debt.
And building a business from nothing feels like such an accomplishment!
So what did I learn from my fourth year of blogging? What's working? What isn't?
If you're a blogger now or have ever been interested in being one, let's chat!
Everything I Learned in My Fourth Year of Blogging
My fourth year was interesting, because I've spent this entire year pregnant (with a mushy brain that made it hard to write frequently) or raising a newborn (also making it hard to be consistent in blogging!).
Even through all of that, my pageviews are consistently higher than ever. So something must be going right!
My Best Investment This Year
Side Note…
After joining Mediavine last year (they're an ad network), I finally had some money coming in that I could reinvest in my blog.
(FYI, I've never worked with a better company than Mediavine! You wouldn't believe how well they treat their people! You can apply when you have 25K users in a 30 day period.)
Anyway!
I decided that one of my biggest weaknesses was marketing and business sense. How can you run a business if you don't understand the business side?
So after doing some research, I decided to join the Blog Smarter Program.
You know, every day people take classes or get certifications to allow them to start a new job. And I'm well aware of the fact that the best way I can improve myself is by taking lessons to become a better blogger.
Learning everything myself through trial and error would take so much time away from my family. Not to mention that the sooner I have that knowledge, the faster I can put it to work!
And I knew the teacher was more than qualified, with a background in marketing and business.
So after talking it over with my husband, I decided to make the leap.
It was so worth it! Now I have an actual business plan.
It's less throwing darts at the board to see what sticks and more intentionally helping my readers in the actual problems they are experiencing. (Which is so much better than icky high pressure sales techniques!)
You can join the wait list for the Blog Smarter program here.
And if you just can't wait to get started (or if free is more your style), be sure to sign up for her 7 Day Blogging Detox! It's a great way to find out if her teaching style works for you. (Plus, everything Jeni teaches is gold, and you're sure to find some big "aha" moments in her Detox.)
Hosting Upgrade
I was with Siteground for a couple of years, and I was actually pretty happy with them. But when my renewal came up this year, I couldn't justify paying the higher price.
They give you a great rate for the first year or two, but after that the price goes up dramatically.
I'd heard so many great things about BigScoots, and I knew it was time to give them a try. There wasn't a lot of risk in switching because the price difference wasn't nearly as much once I left Siteground's introductory rate.
My recommendation would be to start your hosting with Siteground. But once you can't get the low rates anymore, make the switch to BigScoots. They can speed up your site, and that always makes Google happy!
Pinterest
No blogger can ignore Pinterest. If you're wondering where to start, this is the place.
If there is new information out there about Pinterest, I'm always willing to pay for good, solid help. This has helped my blog traffic to grow more than anything else.
Pinterest changes all.the.time. Luckily, there are bloggers out there that make it their job to keep up with those changes!
My absolute favorite resources for Pinterest are:
Pinteresting Strategies
I listed Pinteresting Strategies as one of my top wins a couple of years ago.
Now Carly has turned it into a course (to make it easier to keep up with changes). So I went back through it again.
Since reviewing this course, I decided to switch to live pinning again. Now I'm taking about a half hour each day (or less) to pin my content.
I did that in mid-June. You can see how my traffic has been steadily climbing ever since then. I anticipate it will continue to snowball forward.
(This is especially noteworthy because summer months tend to be the slowest traffic of the year!)
(Unless Pinterest decides it suddenly doesn't like me. Which totally DOES happen.)
If you're only going to invest in one blogging course right now, this is the one I would recommend.
Most courses these days are $500. But this one is less than $50!
And the powerful bang you'll get in blog traffic makes this a no brainer. You should make your money back in no time! Click here to learn more about it.
PinTest Playbook
PotPieGirl is a close second for me when it comes to Pinterest advice. This year I devoured her affordable Pin Test Playbook.
What I love best is that it comes with access to a closed Facebook group where we can discuss the latest goings on for Pinterest!
Canva
Canva is a free website, and the only way I make pins. I'm on this site constantly, because I try to make at least 5 new pins for old posts each week.
SEO
The other thing that can't be ignored is SEO.
If you can make Google happy, you'll have good traffic to your blog.
Unfortunately, my Google traffic has dropped a bit this year. So this is one area I intend to dig back into in the coming months.
The truth is, having a blog is tricky business. When you ask Google and Pinterest to bring you traffic, you have to play by their rules.
And their rules change often.
This year I invested in Debbie Gartner's book called Easy Backlinks for SEO. This helps you build your backlinks, which in turn tells Google that you're a good, reliable person on the topics you blog about.
I haven't implemented her strategies yet (sad trombone) due to basic life chaos. But I've read the book and am floored by the advice she offers.
I know that her strategies will pay off once I make the time to do the work! And I can't wait to see how my Google traffic grows!
You may also be interested in her book, Easy On Page SEO.
I haven't read this one yet, because I invested in Sticky Blogging SEO a few years ago and have found that to be a fantastic course for getting started on SEO for beginners.
I'm sure either resource would be great for helping you understand SEO for your blog.
And if your looking for a good FREE resource, try this free class for bloggers: How to get MORE traffic with FEWER posts!
Facebook Group
The Facebook group has been going strong. It's become a fantastic support group of frugal minded folks working to encourage each other and share ideas!
Join the Living That #YearofNo Life group here.
This Is a Great "Job"!
When I started this blog, I had read that most blogs take 1-3 years to start making any money. I swore to myself that I would give it my all and work hard for 3 years before I quit.
This blog isn't making a full time income yet. But I've been able to pay for Christmas gifts, a vacation, and now the blog money is helping us with car trouble.
That's a good feeling.
Curious About Becoming a Blogger?
Now… I'm not a blogger who blogs about blogging (haha!), but if you'd like to learn how to blog, I recommend you learn from a master.
Crystal Paine of Money Saving Mom has been blogging for over a decade. She's very successful, and her teaching style will make you feel totally at ease.
Blog Start Up 101
You'll learn a lot from Blog Start Up 101, and a little hand holding can help you avoid costly mistakes that will take you a lot of time to undo later.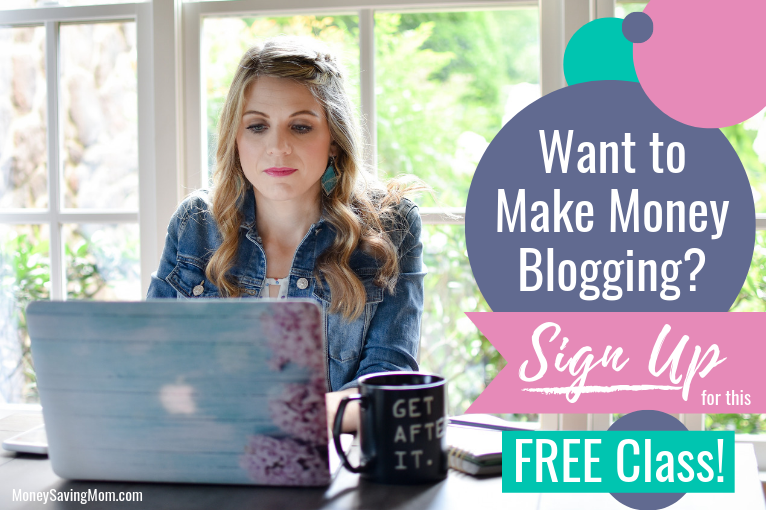 Blogging can be a lot of work, but with the right tools you can make it just the right job for you!
I am one thankful Mama to be able to add income to our family without leaving our new baby to do it.
Are you a blogger? What's been your biggest win this year? Leave a comment!
Summary
Article Name
After Four Years of Blogging, Here Are the Best Tips Now
Description
If you ever wanted to find out how to make money blogging as a stay at home mom, this blogger can tell you what is working after four years of blog work!
Author
Publisher Name
Publisher Logo