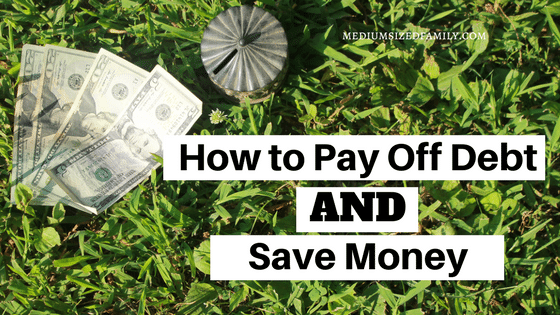 Wondering how to pay off debt and save money? You can do both, and it will change your life for the better! Take these steps to get it done.
We were running late for school.  I hustled the kids to the car ("Tie your shoes in the van!"), slammed the door, jumped in, and turned the key.
The tire light came on.
Should I get out and look?  That stupid light comes on all the time, and it's always just a little low on air.  I don't have time for that.
But I knew it would nag at me all the way down the road.  So I jumped out to ease my mind before we rushed to school.
Except that this time, I had a totally flat tire.
Unexpected?  Check.
Expensive?  Check.
Unexpected expenses are called that for a reason.  They pop up out of the blue, and they are never a cheap fix.  In fact, they are so likely to happen that they should be expected.
Even if you're living debt free, most of us are just one or two unexpected expenses away from falling into debt.  And if you already owe money, unexpected expenses can put you into a never-ending cycle of bills.
But what if you're actively paying off debt?  Should you really be worried about saving money when you have high interest rates?