It's August again, which means another Happy Birthday to Medium Sized Family!  The blog is now 3 years old.  (3 years!!)  I cannot believe how much I've learned through this journey.
And I can say for certain that we couldn't have conquered our credit card debt without the accountability this blog provided.
Everything I Learned in My Third Year of Blogging
Pinterest
Oh boy.  You can't have a successful blog without a good Pinterest strategy.  I knew that all along, and I've been tweaking my pins for three years now.
This is the first year I felt like I actually gained some traction!  My traffic from Pinterest has steadily risen, and I finally have a good idea of how to make it work for my blog.
In fact, my pageviews for the year nearly doubled what I saw last year.  (Up 45%!)
I also fully understand that next week, Pinterest could change their entire algorithm and all of that traffic could disappear.  (Yikes!)  But if that happens, I'll just keep adjusting!
My absolute favorite resources for Pinterest are:
Pin Signals
Pin Signals  This is the second best thing I invested in this year for my blog.  Pinterest went through a big shake up in the late spring, and it left many of us floundering.
This simple book helped my Pinterest traffic recover.  Not only that, but it made me believe in Tailwind again.  Which is great, because now I'm far less tied up to my computer each evening!
I love it when I can learn something without spending hundreds of dollars!  (Amazingly, this book is less than $40!  And if you buy it, DO NOT skip the free video that comes with it.  Worth its weight in gold!)
Tailwind
Tailwind:  I had nearly quit Tailwind earlier this year in favor of manual pinning.  But then the big announcement came that they were the only official partner to Pinterest.
And now it turns out that pushing pins through Tailwind is giving me the strongest traffic. Plus, I love setting everything in just a couple of hours per week and being done!
Blogging Like We Mean It
Blogging Like We Mean It is a free Facebook group brought to you by Carly Campbell (who is one of my favorite people to learn from!!).  It's the perfect place to learn new things and keep up with the latest news in the blogging world.
Canva
Canva is a free website is the only way I make pins.  I'm on this site constantly, because I try to make at least 5 new pins for old posts each week.
Keep Learning
One thing you'll find when you learn from big, successful bloggers is that they believe in education.  They reinvest part of the money they make from their blog into learning how to do new things.
There are so many aspects to blogging that you could probably take courses forever and still need more.
This year, I took several more courses.  I learned small bits and pieces from many of them, so I wouldn't call any of them bad.  But here are the top courses I took that gave me the most bang for my buck.
Bloggers Tell All
Ok, so this isn't a course so much as an ongoing chance to learn from the masters.  But I believe that this was the best money I spent on my blog all year.
Bloggers Tell All is a monthly membership.  You'll get access to videos and resources for everything from better SEO to email help to affiliates and more.
But the best part is the Facebook group where you can ask questions directly to bloggers like Becky Mansfield from Your Modern Family, Stephanie Keeping of Spaceships and Laser Beams, and 6 other big time bloggers!
I was lucky enough to sign up for this when it was getting off the ground.  The price has gone up a bit since then.  BUT, BTA is a great alternative for bloggers who don't have $1,000 to invest in EBA or other courses.
And the good news is that you aren't locked into a contract.  You can try it for a month and see if it's worth the cost.
Affiliate Marketing for Bloggers
I'm a huge fan of Carly Campbell, so I jumped at her new course.  I struggle with affiliate sales, and I know that this is a good source of income for her.
So of course I HAD to try out Affiliate Marketing for Bloggers.
Since taking this course, my meager sales have doubled!  That doesn't mean I'm getting rich from affiliate links…
But I know that if I put in the work to find better products that match my readers, the methods she teaches in this course will make me that much more effective.  I'm anxious to see the progress I make during the holiday season this year!
Grab the Affiliate Marketing for Bloggers course here.  Use coupon code MEDIUMFAMILY20 to get 20% off!  
Find Your People!
I have wanted to join a mastermind group of like minded bloggers forever!  So many big bloggers swear by having a group to pass ideas through, collaborate together, and learn new things from each other.
Finally this year I was invited to join a group!  It's been so good for me to learn from these ladies, and I love how supportive the group is.  Plus, I know their advice has helped me get closer to my goals for the year.
Start a FB Group
Starting a Facebook group feels like just another thing to keep up with.  And I'm not great at posting in there regularly.
But boy am I glad I made this work this year!
The readers who have joined Living That #YearofNo Life enjoy having a place to go for support living the frugal life.  Sometimes it's hard to find friends and family who understand your lifestyle.
Plus, when we have moments of imperfection, it's so good to know that you're not the only one!
It's Worth It!!
When I started this blog, I had read that most blogs take 1-3 years to start making any money.  I swore to myself that I would give it my all and work hard for 3 years before I quit.
Three years in and I'm starting to make some decent money from this blog!  In fact, I was able to treat our family to a trip to Washington DC last month using blog money!  That's something to be proud of.
I couldn't have imagined the journey that blogging would take me through.  The people I've met and the source of pride I have from building this blog is something I'm so glad I risked!
Now I'm not a blogger who blogs about blogging (haha!), but if you'd like to learn how to blog, I recommend you learn from a master.
Crystal Paine of Money Saving Mom has been blogging for over a decade.  She's very successful, and her teaching style will make you feel totally at ease.
Blog Start Up 101
You'll learn a lot from Blog Start Up 101, and a little hand holding can help you avoid costly mistakes that will take you a lot of time to undo later.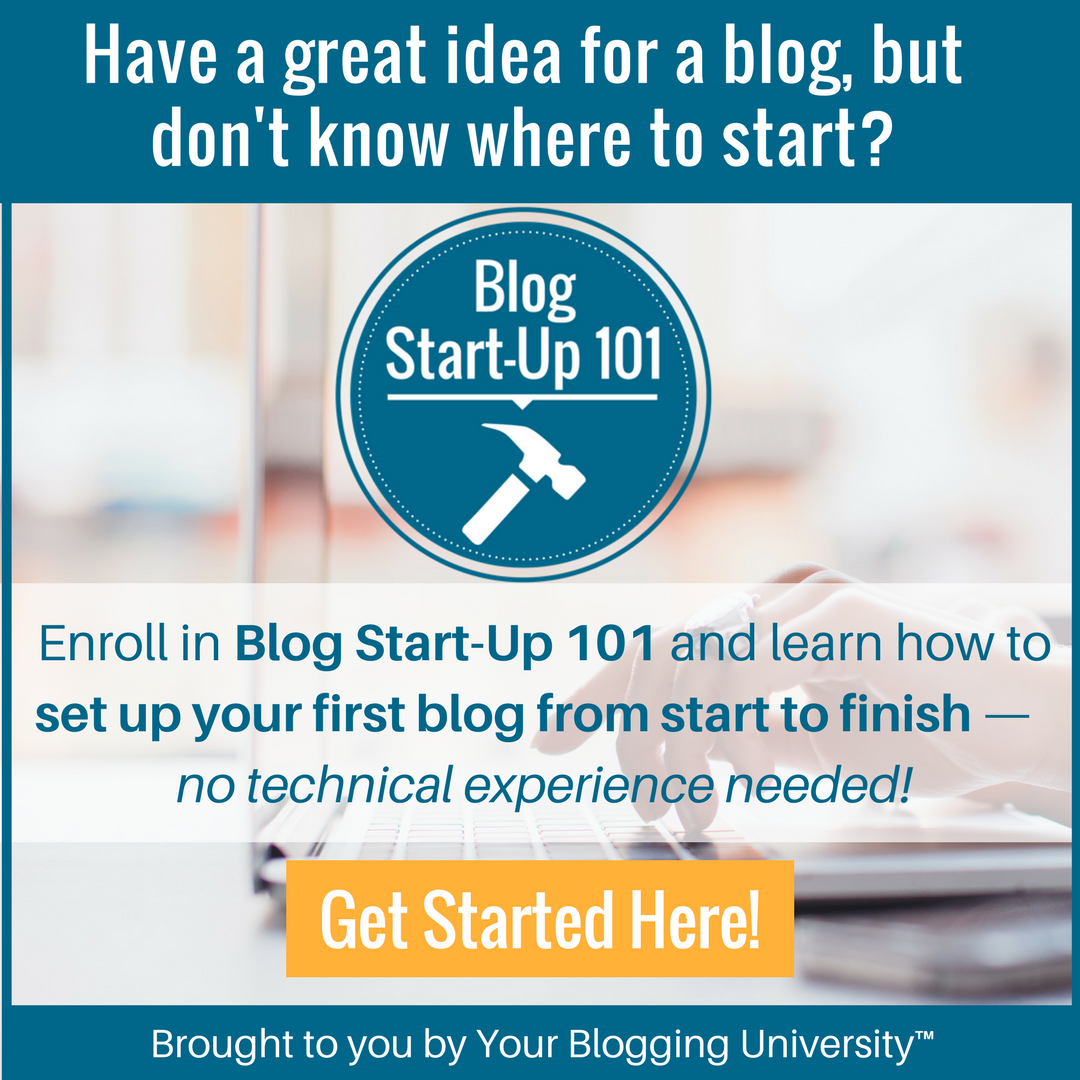 Learn from my hard earned lessons and take the short cut to better blogging success!