I took time off of menu planning in December.  The month was so busy that I had trouble getting to it!  But life is much easier with a plan so I don't wind up doing the 5:00 scramble that so often ends in ordering pizza.  So I'm definitely ready to get back to it.
Breakfast
cereal
oatmeal
homemade breakfast burritos
coffee cake
banana bread
pancakes
Lunch
sandwiches
leftovers
muffins
pizza
soup
Supper
steak
beef stew
tacos
Chicken crock pot slop
grilled chicken
chili
chicken casserole
roasted chicken
breakfast for dinner (brinner!)
spaghetti
Our snacks and extras include
fresh fruit
cookies
cherry pie
ice cream
soft pretzels
popcorn
And that's it!  I try to keep my meals pretty simple, and they do become repetitive.  But my family enjoys these foods and they are frugal enough to keep on the menu regularly.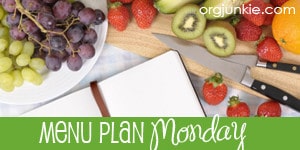 What foods do you enjoy this time of year?