These cheap kids costumes keep Halloween affordable without asking too much of your DIY skills (or lack thereof…hey, no judging here!).
Do you dread the thoughts of dropping $20 (each!) on a costume for your kids again this year?  Despite the fact that they come in children's sizes, most costumes are made of flimsy paper thin material that won't hold up to kids.
Well, don't worry!  We've got years of costume ideas under our belts here.  All it takes is just a little creativity (don't worry, I'm terrible at DIY and even I can pull this off!).
Here are 5 easy ways to find cheap Halloween costume ideas.

1. Make a Swap.
Ask your Mom friends if anyone would like to trade old costumes.  You'll often find that they have something that will fit your child well enough!  Younger kids usually don't care what they dress up like, which makes it even easier.
Other ideas:  If you don't know Moms who's hand me downs are the right size, put out a plea on Facebook.  Sometimes people have an old costume in a closet somewhere.  Or they might have a friend that's the perfect match for you.  Hey, you might even make a new Mommy friend!
2. Shop Craigslist or Yard Sales.
If you keep your eyes open, you can find some great deals on Craigslist or at a yard sale.  I've found costumes for just $2.  Thrift stores and secondhand shops can be another great resource.  And if you have a costume you no longer need, selling it to a secondhand shop will help pay for a new costume.
Skip anyone who is asking retail prices on a used costume.
And if you shop Craigslist, ALWAYS insist on meeting in a public location.  (That goes without saying, right?)
3. Get Creative.  
One year my son decided he wanted to be Anakin Skywalker.  So we dug around and found some white clothes.  My shirt was a little big, but he wore it for such a short time that it didn't matter.  We added a brown jacket.  Then we used his lightsaber toy and created a belt from some ribbon I had.
Well.  He wore that costume to one event and decided the next day that he didn't want to wear it again.  Now he wanted to be a rock and roll star.  I had spent so much time putting together the Star Wars costume that I told him he'd have to figure it out himself.
Wouldn't you know, he came downstairs with some clothes he'd pulled together and a bandanna around his head.  He was carrying a toy guitar.  We helped him put on a goatee with some face paint and he was good to go.
It's amazing what a kid can do for himself when he really wants something!
4. Buy Outside the Box.
Sometimes it's worth spending money on a costume, especially if you'll get several uses out of it.  You might have a lot of events to go to this year, or have other children that will wear the same costume in the future.
You can also buy clothes they can wear in their daily lives.  Maybe you need a gray sweatsuit for an elephant costume.  That sweatsuit can be worn again (assuming you live in a cold climate!), even if it's just for sledding and lounging around the house.
Maybe you need a black t-shirt as a base for your costume, but that child doesn't own one.  Dig around a bit.  Is there a black t-shirt in the house?  Even if it doesn't quite fit, it could probably work for one night.
If not, check out Goodwill.  They divide their clothing by color, which makes it easy to find what you need.  And many Goodwills only charge a small amount for a child's t-shirt.
5. Plan Ahead.
This tip might not help you this year, but it's worth mentioning anyway.  We all love to shop clearance after a holiday.  This year, pick up a costume or two for a fraction of the cost.
Remember, you can give costumes to your child for Christmas or a birthday gift.  They'll love to wear them around the house and play pretend throughout the year.  (I can't tell you how many times my backyard was saved from danger because a Transformer, a ninja, and Superman were running around.)
My daughter has received many princess costumes this way, and this year she can be almost any princess she wants to be.
Combine these tips to save a pretty penny on frugal or free Halloween costumes!
Save that $100 you would have spent on store bought costumes for something more fun.  Like buying clearance Halloween candy!
Now let's find a cheap way to decorate the house for Halloween!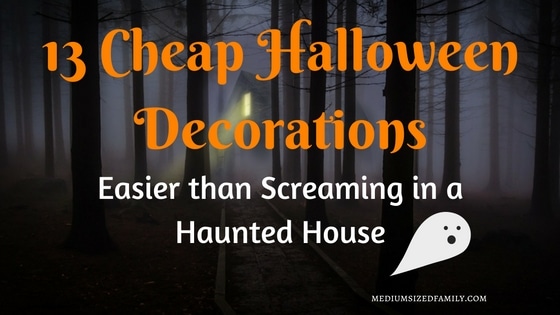 What frugal tips do you have to find cheap or free Halloween costumes for your family?
Summary
Article Name
5 Easy Ways to Get Cheap Kids Costumes (No Sewing Required!)
Description
These cheap kids costumes keep Halloween affordable without asking too much of your DIY skills (or lack thereof...hey, no judging here!).
Author