Two years ago, I decided to start celebrating the ways our family saved money each week.  Not only did this give my Hubby and me the motivation to keep working hard to pay off debt, but we hoped that sharing our money saving ideas would inspire our readers to save more, too.
The first few weeks, I wondered if I could really write about these things week after week without becoming boring and repetitive.  But over time, I realized that with the changing of the seasons, the years, and the way we do things, there's always another way you can save money.
Based on the number of people who have read these posts, I'd say you feel the same way.  You want to save money for the things that mean the most to your own family.  It's so nice to have a whole community of savers in one place!
To celebrate week number 100, I have a special announcement…so make sure you read through the whole post!
When I hit post number 52 (that's a whole year's worth of money saving ideas!!), I decided to write about the 5 things that had saved us the most money over time.
Now that we've hit number 100, I'd like to write about the 5 ways we've changed the way we spend in the past 2 years.  These changes have led us to paying off tens of thousands of dollars worth of debt …and we're nearly done being slaves to the credit card companies now!!
This post contains affiliate links that pay a small amount to Medium Sized Family at no additional cost to you. Thanks for helping us get debt free!
The 5 Ways We've Changed Our Spending Habits
The Cooler
Right off the bat, I knew we couldn't spend money on fast food.  We'd spent $500 on fast food across the course of one baseball season.  Ouch!  I'd love to have that money back.  (Not to mention avoiding those calories…)

So I set our cooler out where I'd see it before we left the house.  I keep water bottles and Gatorades (for my kids with migraines) at the ready to grab and go.
We also kept easy snacks in the car like granola bars.  No need to stop, even if everyone is staaaaaarving.
Christmas Fund
Many Americans carry credit card debt from buying Christmas presents.  Some pay it off within a few months.  Others never quite get one balance paid off before it's time to start holiday shopping all over again.
To help avoid going into debt for Christmas, we've done a few things.
Simplify (If you don't think you should simplify your buying, start decluttering your house.  You'll be convinced quickly.)
Used layaway (Such a great deal!  I'm using it even though I could buy those gifts outright with cash just to get the extra savings.)
Found extra money to drop in the Christmas account.  I'm blogging for Christmas, but there are plenty of other ways to earn a little extra.
Get tips for paying for Christmas from this series of 7 Ways to Pile Up Christmas Money.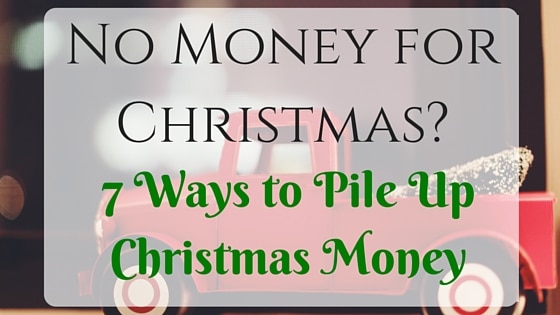 Grocery Shopping
Pantry challenges are great if your house is overflowing with food.  But you can actually get a better benefit by challenging yourself to use up the stuff in the back of your pantry and freezer first while still grocery shopping for the things you need regularly.
Shopping every 2 weeks has saved my family a ton of money, because I'm able to take advantage of sales cycles.  Plus, I don't have to worry about getting sick and having nothing in the house to eat!  Learn more about how we save on groceries here.

We'll Take The Second Hand
It's amazing how many bargains you can find buying secondhand.  From clothes to furniture to school supplies…if we can't get around buying something, we at least make sure we're getting the best deal possible.  That means those Target runs for "just one thing" (haha, try $100 worth of stuff, every time!) just don't happen anymore.
#yearofno
You didn't think I could write about the big ways we saved without mentioning our #yearofno did you??  This motto was our reset button.  It isn't like a no spend challenge where you try to power through a month without spending money.  It was a deeper reflection on how we were spending our money and why.  Did we really need all of the things we thought were so necessary?
Turns out the answer was no more often than not.
We learned more than I could have possibly imagined from our #yearofno. It's made all the difference for our family.
Those are 5 of the ways we've changed the way we spend money.
Now, for the big announcement! 
I'm working on a handy ebook that will pull together the 500 money saving tips throughout this series.  That means you don't have to scroll through endless pages to read all of the money saving tips we've used. I'm going to show connections between these money saving ways, plus there will be extra tips in the book.
I'm so excited about this adventure, and I hope you'll find it helpful!  If you get the Medium Sized Family newsletter, you'll get updates on the book.  PLUS (hint, hint) if you're interested in this book at all, you'll definitely want to be a subscriber when it launches.
Join the newsletter here:
Thanks so much for reading Medium Sized Family!  Stick around for many more money savers to come.
What's the best way you've ever saved money?