After riding the struggle bus for a good couple of months, we finally had some good news this week.  We've paid off credit card number 2!!!  Only imaginary balloons fell from the sky, but it was good enough for me!
What a relief to no longer have to divide our attention.  From here on out, all extra money will be devoted to one cause only: the last credit card.  This one is a medium sized guy… actually half the size of the first one we tackled.  So we're hoping it falls fast!  We're projected to be debt free in March.  Keep pushing us!  We love your cheers and encouragement.  <3
.Friday is a natural day of the week to reflect back on how things went.  We love to think of the ways we saved money, because it encourages us to move forward with our debt free plan.
If you love money saving tips, you can read all the issues of the 5 Ways We've Saved Money This Week series.
Let's head into the latest money saving post!
5 Ways We've Saved Money This Week 95
Free Breakfast
Our school district is looking for ways to encourage more kids to buy breakfast.  We won't be participating in that (I'd much rather serve a frugal meal at home).  But since the school gave free breakfast to everyone in the district, I was happy to let the kids take part.
They got donuts and other breakfast treats and I got to save the cost of one meal for the week.
Halloween Decor
When do you start to decorate for Halloween?  This question inspired a lively conversation on Facebook!
While adding some new touches to our old Halloween decor would be nice, I'm sticking with my tried and true.  I may try to add a few creative things using items we already have on hand.
(Need super cheap or free ideas for your home?  Try these!)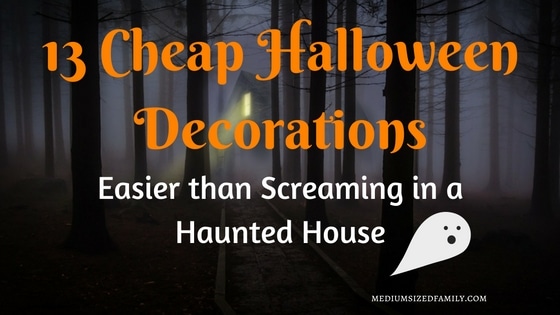 Banana Oatmeal Cups
The bananas got mushy and a natural choice would have been banana bread.  But I wanted to try something new.  And I'm so glad I did!
We gave this recipe for banana oatmeal cups a try.  They were a huge hit!  The kids want more already.  I have a feeling they'll leave the bananas alone again next time to get this treat.
Couches
This one is my favorite way of the month (months??)!  I've been giving my sad old couch the side eye for months.  We've had it the entire time we were married.  It started off as a nice piece of furniture.  But then we had kids.  ha!
Happily, a friend had a couch passed down to her.  So she passed her couch set on to me.  I was more than happy to take it!  Our couch, on the other hand, got passed down to the trash man.
The kids are loving the extra seating and I love the new look.  Even more, I love having friends who pay it forward!  I'm already looking for ways to pass it on myself.
[clickToTweet tweet="Money saving tips that helped this family pay off 2 credit cards (so far!). #money" quote="Money saving tips that helped this family pay off 2 credit cards (so far!). #money" theme="style6″]
Paid Off a Credit Card!!!
Maybe I already mentioned this one?  😉  That's ok, it's worth another mention!  Paying off credit card #2 was a huge load off of our minds after falling behind on our debt plan.  We missed our (self imposed) September deadline by just a few days.  But who cares??  Getting this card done is the lift we needed to #presson.
Those are the 5 ways we saved this week!
Who else is ready for the weekend?
Oh!  Be sure to check out the progress we made on our goals in September!
How did you save this week?