Do you feel like a scatterbrained homemaker? These homemaking blogs are perfect for finding the best tips that will work for your family.
When I first became a stay at home mom, I floundered.  To be fair, I gave birth to our third son the same month I quit my job.  And adjusting to a newborn takes time no matter how many kids you have.
Still.  It was nice to not have to rush the kids to the sitter and have myself ready for work every day.  But going from a rigid schedule to no schedule was tough.
After a period of not accomplishing much, I finally began searching the internet for homemaking blogs.  I needed ideas to get myself out of the rut and help me make a plan for getting things done.  And the little tips for simplifying life along the way sure didn't hurt!
The first website I came across was Flylady.  It changed my life!  With her baby steps, I was able to create a plan for cleaning the house and organizing our busy lives.  Over time, I tweaked these ideas until they fit our unique situations.  There is no one size fits all solution, right?
Whether you're floundering in keeping your home or doing pretty well, you can always learn from others.
That's why I compiled a list of homemaking blogs for you to sort through.  Choose the blogs that are the best match for your life.
Learn how to handle messes, organize your life, and get fun little hacks and tips for making things easier on you.
12 Homemaking Blogs That Will Help You Get It Together
The Prudent Homemaker
I first came across Brandy's blog many years ago.  I was impressed by her ability to feed her family of 9 on just $100 for the whole month.  That's not a typo!  If you need encouragement and ideas you can use during hard times, this is the perfect blog to read.
You'll also be amazed by her beautiful photos and lovely gardens.
How does she handle it all?  She sent me this quote to share.  "Getting up before the children each morning helps me to accomplish more each day. Having a daily schedule helps me keep on track with what needs to be done."
Read more at The Prudent Homemaker.
---
Strangers and Pilgrims on Earth
As a fellow lover of history, I always enjoy the beautiful artwork that JES displays on her blog.  She also offers help for canning and storing foods in bulk.
One of my favorite posts there is 100+ DIY projects to make with fruit scraps.  Talk about saving money!
Although she hasn't updated the blog in a while, you'll still find a wealth of information here.
If you consider yourself a little old fashioned (and you and I don't mean that in a bad way!), you'll feel right at home at Strangers and Pilgrims on Earth.
---
Humorous Homemaking
If you don't like to take yourself too seriously, you'll enjoy Humorous Homemaking.
If you want Pinterest perfection, look elsewhere.  Here you'll only find tried and true ideas that make your homemaking totally doable.
Stacy says, "If it's not simple, you won't do it. Keep all your routines as simple as possible."   Amen, sister!  I know I've found that to be true in my life.
Get more from Humorous Homemaking.
---
The Healthy Home Economist
Is eating the healthiest food one of the most important parts of your job as homemaker?  Then you'll love The Healthy Home Economist!
Sarah gives you tips on feeding your family the best so they can live a healthy life.  You might even want to check out her book, Traditional Remedies for Modern Families.
If videos fit your schedule better, you'll find over 100 on traditional cooking.  The recipes are great, but the shopping lists for things like healthy sleep and detoxification are fascinating!
Check out The Healthy Home Economist.
---
The Humbled Homemaker
Another blog I've enjoyed reading for a long time, The Humbled Homemaker is so relatable!  I love her advice for low income families.  And her post on why they aren't taking their kids to Disney was good food for thought when I was feeling the pressure.
What I love the most about her blog is the feeling of encouragement she gives in every post.
Her advice?  "When it comes to keeping your home, realize it will never be a perfect process. Do the best you can, pray lots, and give yourself grace. Your children will remember love and laughter more than a sparkling clean home. I would rather a little mess than a stressed-out mama." ~Erin Odom
Be sure to check out The Humbled Homemaker.  And check out her book More Than Just Making It: Hope for the Heart of the Financially Frustrated.
---
Fab Working Mom Life
Working Moms still have to keep up with the home, too!  You might not consider yourself a homemaker, but I know you're still making your house a home.
That's where Julie from Fab Working Mom Life comes in.
She's got some awesome resources for helping you juggle it all, Super Mom.
Her suggestion?  "Juggling home life and work life is exactly that, something is always in the air to catch and sometimes tasks get dropped. It is important to try to be fully present at work and at home, so we can at least do our best in both settings. It is ok and wonderful to ask for help, whether it is getting a house cleaner every now and then so you can give more attention to the toddler, and getting groceries delivered so you don't have to do that chore. Moms wear enough hats and it really helps to let someone else wear one or two of ours for a bit :)"
Read more at Fab Working Mom Life.
---
The Peaceful Mom
Are you looking for ways to add more beauty into your life?  Kimberlee has tons of ideas for helping Moms feel more peace in their days.  That's something I know we all need!
I love her series on decluttering and she always has ideas for saving on groceries (even if you're gluten free!).
She shared this advice with me: "My goal as a mom has never been to have a 'perfect' home". I want to find efficient ways to take care of the basics like meals, dishes, laundry and keeping the house reasonably clean because I have learned that when my life is in order, I have time and space for what's truly important. Sometimes the clean laundry stays in the basket for a while, and that's okay because I'm spending time with my family."
Check out The Peaceful Mom.
---
Sharing Life's Moments
Crystal has a tab called "Balancing Life".  I don't know too many moms that wouldn't click there first!  There are plenty of resources for homeschooling and finding some fun in your days.
She also has book giveaways and reviews, which you'll like if you're anything like me.  I never know what book to read next!
Read all about it at Sharing Life's Moments.
---
Mrs. Happy Homemaker
Her motto is "Where old fashioned and modern day collide."  Isn't that great?!  If you're big into making things yourself, she's got recipes for everything.  Not only delicious foods, but also soap, coffee creamer, laundry detergent, and tons more.
If you like all natural ingredients or just prefer to do things the "Little House on the Prairie" way, you'll love this blog!
Read Mrs. Happy Homemaker.
---
Creative Home Keeper

Victoria has a ton of ideas for helping you keep your sanity and keep up with self care as a home keeper.  You'll enjoy her Biblical encouragement for intentional housekeeping.
She's also got resources for investing time in your family and marriage.
Check out Creative Home Keeper to read more.
---
A Budget Friendly Life
If you want help saving money, keeping things organized, getting family friendly suggestions and recipes, then you need to check out A Budget Friendly Life.
You'll love the suggestions for simple living so you can spend less time keeping up with everything and more time enjoying life with your family.
Learn more at A Budget Friendly Life.
---
I bet at least one homemaking blog from this list sounds like "home" to you!
Even if you don't consider yourself a homemaker, you are what makes your house feel like home to your loved ones.  Why not get some help from people who are right there with you?
Before you go, check out my tips for helping your kids pick up toys without losing your mind!
Do you consider yourself a homemaker?
Summary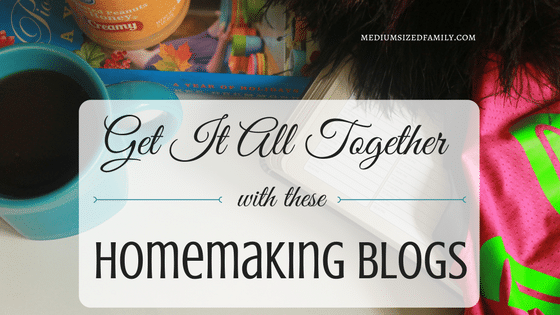 Article Name
12 Homemaking Blogs That Will Help You Get It Together
Description
Do you feel like a scatterbrained homemaker? Choose the homemaking blog from this list that's the best match for you. You'll love their tips!
Author