Even if you've got a pile of kids, you can learn how to organize a large family in a small house. These tips will give you breathing room!
Bang, bang, bang. "Hurry up!! I've got to go!"
That's the sound of life all day long when you've got a family of 7 living in a house with one bathroom. No matter how many times I remind the kids to not wait until the last possible minute to use the bathroom, it falls on deaf ears. There's a line for that bathroom so often it's like being at a rock concert.
I always loved the song "Love Grows Best in Little Houses" by Doug Stone. But when you're living it day in and day out, life starts to seem a little less romantic than that song suggests.
But there's always a way to improve your situation. So let's check out some ideas for how to organize a large family in a small house.
How to Organize a Large Family in a Small House
Vertical Space
Bedrooms
When you look around a room and wonder how you could fit any more into it, it's time to look up. Chances are there's more room for extra shelves when you go up a wall. Especially when a room is full of furniture (maybe beds for several kids?).
It's also a nice way to give each kid their own space. Kids in large families often share a room out of necessity, but they'd still like a spot for their special things. Give taller kids higher shelves. They'll get the space they can reach and keep important things out of the hands of younger ones. (Assuming you keep them from climbing the shelves.)
If you can raise the beds, you'll add even more living room to your bedrooms. Look into loft beds or bunk beds as space savers.
After searching for a good new or used bunk bed, we decided to just build our own. Since our kids prefer to sleep in a pile, we put a single bed over a double bed. You can also make a triple bunk bed for even more space.
Kitchen
I love these under the shelf baskets for adding more storage to a small kitchen. They're perfect for squeezing more room out of the area over your bowls or short stacks of kitchenware.
You can also build shelving around your door frame. Then display your prettier pieces there when they aren't in use.
Bathroom
Add hooks wherever you can for hanging things like blow dryers, curling irons, and more. If you've got a closet in the bathroom, add small shelves or baskets to the door for holding makeup or brushes.
Mount a toothbrush holder like this one to the side of your medicine cabinet or near the sink.
Schooling
Remember, going vertical is the key! A locker style space for everyone's "stuff" is a great way to get organized.
Place a bench near the door. Put a labeled basket for each child under the bench. If all of your baskets won't fit under the bench, you can add cubbies next to the bench. Go as high as you need. (Just be sure to anchor them!)
Put hooks on the wall above the bench for backpacks, jackets, or sports equipment.
I'm a fan of using a sock hanger for winter accessories.
"I Hate My House!!!" Learn what to do about it!
Storage in the Furniture
I bet you're a pro at storing things under the furniture wherever you can manage. But what about hiding things in the furniture? Here are some neat ideas.
Get ideas for the best furniture for large families here!
Sofa
Here's the perfect Pinterest project: a pallet sofa. I'd actually consider this more bench than sofa, but the idea is the same. Double up sitting space with storage.
Ottoman
I adore this DIY project! Who would have thought to turn a cheap crate into a pretty ottoman? More seating for littles or a nice place to prop your feet at the end of the long day. And the storage is a lovely bonus.
Bed
You can find plans to make your own lift up bed. Or you can just buy one from Ikea.
Between the Studs
I can't offer you two handsome men (wink, wink), but the ideas out there for using storage right in your walls are just awesome. Try these instructions from The Craft Patch to learn how to build your own extra wall storage.
Family Closet
More and more families are discovering how to organize a large family in a small house by choosing to have one family closet. I'm not sure how your house works, but clothing is a mess in our home. The bedrooms are full of clothes, and no one seems to know what's clean and what's not.
A family closet is a natural solution, because it contains all of the household clothing into one room. It makes laundry much simpler!
Learn the laundry hacks that make life easier!
Where to Put It
Incorporating a family closet will probably take some juggling. You may need to have more kids share a bedroom so you can put all of the clothing into its own room. Or maybe there's a large walk in closet that will accommodate everyone's clothing.
Is your laundry room large enough to store everyone's clothes? You might even just section off a corner of a room with a curtain. Go all the way up the wall with your clothes to use just one wall of a room in this way.
Inspiration
Here's some inspiration for creating your own family closet.
A video blog of one family's closet at Keeper of the Home.
Ours For a Little While shares some thoughts on how to get the family closet started.
Get more ideas (with pictures!) for creating your own family closet from Offbeat Home.
Here's another way to get set up from Organic Large Families.
Can't Fit a Family Closet?
When I found this video about how one amazing Mom maximized her small laundry room, I had to include it. Enjoy!
With these ideas, knowing how to organize a large family into a small home is just a matter of getting creative.
Change even just a wall or a corner of a room to add a lot of extra organization to your small home.
If you like tips for large family living, be sure to join the newsletter. Get a free list of pantry items every large family should keep on hand!
You might also want to check out my tips for Getting the Kids to Pick Up Toys Without Losing Your Mind.
How do you organize your large family into a small house?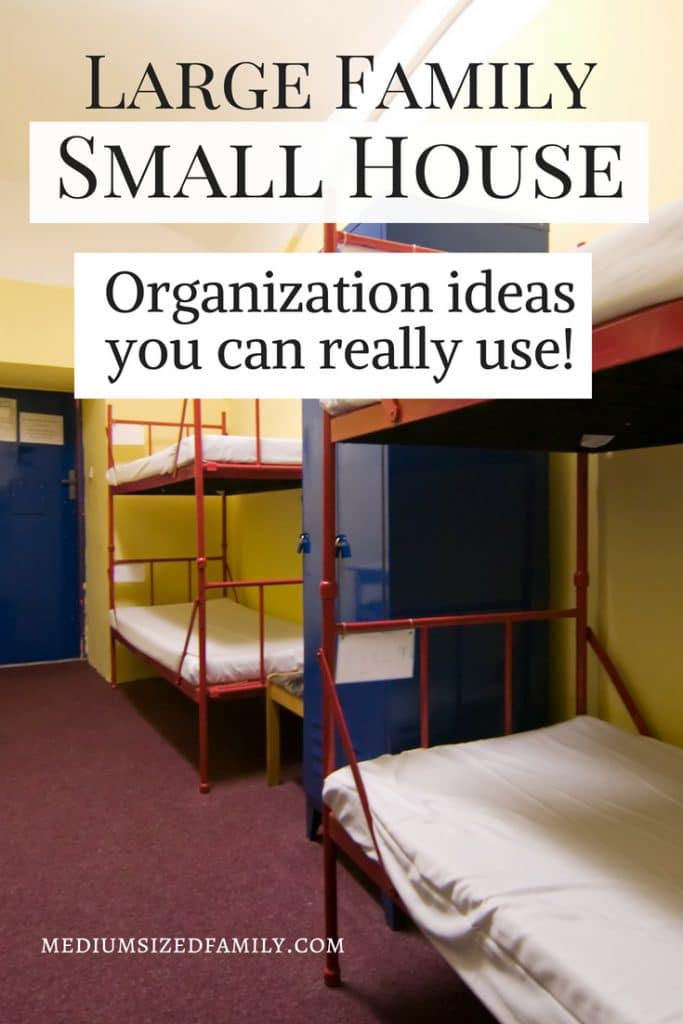 Summary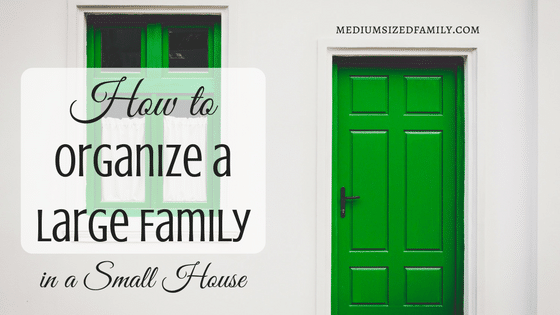 Article Name
How to Organize a Large Family in a Small House
Description
Even if you've got a pile of kids, you can learn how to organize a large family in a small house. These tips will give you breathing room!
Author