Add your own special touch to show love for your Mama with these verses for Mothers Day cards! Loving, funny, poetry…it's all here!
When I was in second grade, my Sunday school teacher gave each child in her class a one dollar bill. She told us that we should use that money to go to the grocery store and choose some food for the poor.
It was a lesson in helping others.
When I got home, I told my Mom about the assignment. After that, she was on a mission!
By the time we got done shopping, I had a paper bag half filled with groceries for the price of a dollar.
Granted, this was the '80s, so my dollar stretched further than it would today. But the truth is that my Mom knew how to pinch a penny. She's one of the most frugal people I know.
This woman raised five kids on what would be considered a meager income…but we never knew the difference. While we didn't get the fancy shoes and trips that some of our friends had, it was really a life lesson of need versus wants.
My Mom is a pretty amazing person. She has more energy than most people my own age!
She bends over backwards to help people whenever she can. Happy Mother's Day, Mom!
I bet you could list plenty of reasons your own Mom rocks, too. Maybe you want to make her day even more special with just the right verse for her Mother's Day card.
That's why I collected a few that will make her smile on her special day!
Verses for Mother's Day Cards That Will Make Her Smile

If you're looking for a special card to write in, here are a few that are too adorable to pass up.
This one is pretty funny…if you're not a first born. 😉
What a cool pop up card this is! Imagine her opening the envelope to pull out this beauty.
Or here's another pop up card with a more personalized touch. She always loves family photos!
Love Themes
"…when you look at your mother, you are looking at the purest love you will ever know." Mitch Albom
"When you are a mother, you are never really alone in your thoughts. A mother always has to think twice, once for herself and once for her child." – Sophia Loren
"There is more power in a mother's hand than in a king's scepter." – Billy Sunday
(This next one is long, but one of my favorites. I had to include it!)
"To be Queen Elizabeth within a definite area, deciding sales, banquets, labors and holidays; to be Whiteley within a certain area, providing toys, boots, sheets, cakes. and books, to be Aristotle within a certain area, teaching morals, manners, theology, and hygiene; I can understand how this might exhaust the mind, but I cannot imagine how it could narrow it. How can it be a large career to tell other people's children about the Rule of Three, and a small career to tell one's own children about the universe? How can it be broad to be the same thing to everyone, and narrow to be everything to someone? No; a woman's function is laborious, but because it is gigantic, not because it is minute. I will pity Mrs. Jones for the hugeness of her task; I will never pity her for its smallness." – G.K. Chesterton
"The homemaker has the ultimate career. All other careers exist for one purpose only – and that is to support the ultimate career. " – C.S. Lewis
"All I am I owe to my mother. I attribute all my success in life to the moral, intellectual and physical education I received from her." – George Washington
"All mothers are working mothers." – Phyllis Diller
"To describe my mother would be to write about a hurricane in its perfect power." – Maya Angelou
For The Mom With A Sense of Humor
"It's not easy being a mother. If it were easy, fathers would do it." – The Golden Girls
"My mother had a great deal of trouble with me, but I think she enjoyed it." – Mark Twain
"I want my children to have all the things I couldn't afford. Then I want to move in with them." – Phyllis Diller
Poetry & Music
"The angels, whispering to one another,
Can find, among their burning terms of love,
None so devotional as that of "Mother" " – Edgar Allan Poe
So hush now, baby, don't you cry
Cuz there's someone down there waiting who's only goal in life
Is making sure you're always going to be alright
A loving angel, tender tough and strong
It's almost time to go and meet your Mom – Garth Brooks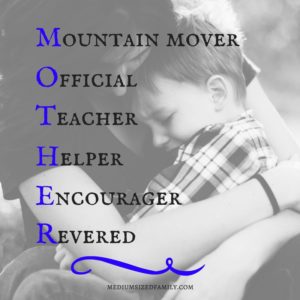 A picture memory brings to me;
I look across the years and see
Myself beside my mother's knee.
I feel her gentle hand restrain
My selfish moods, and know again
A child's blind sense of wrong and pain.
But wiser now,
a man gray grown,
My childhood's needs are better known.
My mother's chastening love I own. – John Greenleaf Whittier
One of these verses for Mother's Day cards will be perfect for your own special Mom!
Add your own touch to the card this year. And don't forget to share a special memory with your own Mama!
Be sure to check out An Open Letter to Moms.
What makes your Mom special?