Inside:  You'll love the bargains you can find in this list of cool things under 10 dollars! Give them as gifts or enjoy a guilt free splurge!
Whether you're ready to make a little splurge on yourself or you need a gift idea that fits into your budget, you can't go wrong with anything on this list of cool things under 10 dollars!
Get the most bang for your buck and find some unique ideas.  You're sure to find something here that matches that gift exchange theme your group set up this year!
Medium Sized Family uses affiliate links.  If you click through these links, we'll earn a small commission (for debt pay off!!) that will not increase the price for you.  Thanks for your support!
Some Cool Things Under 10 Dollars You're Gonna Love!
Pin me!
$10 Or Less Ideas for Adults
Teens will like some of these ideas, too.
1. Frankenstein Light Switch  This is probably meant to be a Halloween decoration, but I would love this in my home year round!  Make turning on the lights fun again.
2. Stamp Pad and Stamps  For that crafty person in your life.  There are tons of stamps to choose from out there.
3. 
Silk Sleep Mask  If sleep isn't your friend, you'll at least feel comfortable while you lay there!
4. Extendable Snow Broom If you're short, give yourself the gift of not climbing across a snow covered car to try to knock everything off!  (You can thank me when you manage a morning that you don't accidentally make a snow angel.  I can't be the only one!)
5. Scalpmaster Shampoo Brush The relaxation of the spa without the price!
6. Any of these $5 albums. (So many choices!)

7. Himalayan Salt Lamp Night Light.  Now's your chance to find out what all the buzz is about the Himalayan salt lamps. 
8. Mini Food Chopper 
Buy Now   This is perfect for simplifying small chopping jobs without making a giant mess.
9. Galvanized Bin  
Buy Now  This bin is beautiful!  It would work well in nearly any space.
10. Chalk Board Calendar Super cute, it'll keep anyone organized!
11. Plush Rug Lay it next to your bed.  The first thing you'll do each morning is wiggle your toes on a comfy, warm rug.  It's great for starting your day on the right foot!  (Get it?!)
12. Hollar has such amazing prices on beauty products, you can put a set together for under $10! (First order ships free!)
13. Gift cards for iTunes, coffee, tea… any fun little splurge!
14. Baby Box  For the price of shipping (about $5), you can get a box filled with samples for your new baby (or that new Mom you know).
Tech Under 10 Dollars
This one is for the guy or gal who always has their nose in a phone.  (So…everybody??)
15. This mini USB fan cools your phone (if you use apps that tend to make it hot).  OR it will work as a personal fan!  It even has a charging station.
16. Portable Lipstick Charger   Never run out of battery on your morning walk again!  (Assuming you remember to charge the charger…)
17. 
This sleek USB hub is super cool (and it won't take up space!).
Funny $10 Gifts
Next up, shop these ideas for the Chandler of the crowd.
18. Instant Irish Accent  Who knew it was so simple?!
19. Grow a Boyfriend For that gal that's fed up with the dating game!
20. Funny Candle for a Coworker  Wink, wink
21. Toilet Bowl Light  For the Mom with boys…maybe this will inspire them to aim!
$10 Or Less Ideas for Kids
…from one to 92!
22. A Roll of Bubble Wrap.  For you and me, this might be stress relief.  For a kid…it's a whole roll of wrap to pop without sharing!
23. Several games of skee ball from Chuck E Cheese.
24. Noise Putty   Hours of fun!!  (But you may find it cheaper at your local dollar store.)

25. Nerf Gun There aren't many people who don't love a good Nerf war (or at least knocking down stacked cups!)
26. Acrylic Paint  Lots of fun for a low price.
27. Hair Chalk Kit For those days when you want to make a statement.
28. No Tie Shoe Laces For kids, seniors, runners, sports enthusiasts, and the Mom who already has to tie 3 sets of shoes every day.
29. Wall Stickers: These are actually great for anyone, because there's such a variety out there!  Fun to cute to inspiring.   
30. Customized Poop Emoji Pillow.  Enough said.
31. Baseball Helmet Decal for your favorite player.
32. Headlight Kids can use it to play hide and seek in the dark!
33. Digital downloads of Disney movies starting at $5!!
34. Plush Penguin Nightlight.  So cute!  And they probably don't have a stuffed penguin that doubles as a nightlight.
35. Or, for the Minecraft addict, how about a night globe?
These cool gifts under $10 are just the right price!
And if you want even more cheap gift ideas, don't worry.  We've got you covered.
What's the best thing you've ever bought for less than $10?
Summary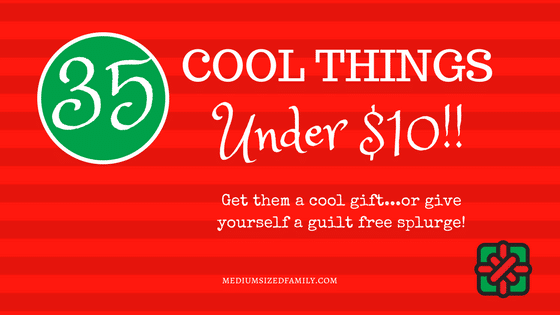 Article Name
35 Cool Things Under 10 Dollars: Makes a Great (Cheap!) Gift
Description
You'll love the bargains you can find in this list of cool things under 10 dollars! Give them as gifts or enjoy a guilt free splurge!
Author