The temperature outside was only 20 degrees, but it was already time to start thinking of fundraisers for our baseball team.  Let's see…we'd already sold flowers and discounts to a local pizza joint.  We'd held car washes and signs outside a fast food restaurant. Those were fine ideas, but they were getting a little old.  Besides, some of those are tough to do in cold weather.
So I started poking around the internet, looking for ideas.
And that's when I discovered Pear.
Sadly, Pear has gone out of business.  🙁  But save this link, because I found another company that will help you raise funds without selling!  Coming very soon.  (11/5/17)
It was totally different from every other fundraiser we'd tried.  This website was offering to link our team up to a company that was interested in sponsoring a local group like ours.  It meant that we could ask our friends and family for a couple of minutes of their time rather than begging them for money again.
I'll admit, we were skeptical.  But we gave it a try.  It turned out to be so worth it!  Read on to learn more about how Pear works, and what our own experience was like.
What's So Great About Pear?
Pear is a website that matches companies to teams and groups needing funding.  (Pear is part of the Custom Ink company.  You may have heard of their t-shirts.)
Your loved ones are probably tired of buying another useless gadget to show support for your child.  But most of them are willing to watch a video or print a coupon to earn the group money.  That makes Pear a simple fundraising idea.
How Does It Work?
Your coach or team parent will plug in some simple information such as your zip code and the age range of your group or team.  That helps them match you to the right company.
Many of these companies will sound familiar (including Allstate, Nabisco, and Verizon).  These sponsors offer help with apparel (such as uniforms), gift cards, or cash donations.
Once you have a sponsor match, you'll set up your team's Pear web page.  It's very simple to do, and takes no more than 5 minutes.
Then it's time to ask friends and family to click over to your team page.  There they will have different tasks to do.  (Things like "liking" a Facebook page, sending a Tweet, or watching a company's advertisement.)
Each click your friends make adds money to your sponsored account.
[Tweet "Raise money for your team or group without asking friends to spend a dime! Easiest #fundraiser ever."]
You can start your own fundraiser in 5 minutes by clicking here.
Current Offers Include:
Get up to $1000 in custom apparel sponsorships for your child's school group through US Cellular at Pear. Available in select markets.
Get up to $1000 in Cash Sponsorship for Youth Soccer from Nabisco Multipacks at Pear!
And many more! Looking for sponsorship? Check out sponsorship campaigns at Pear!
My Experience Using Pear
So how did our own baseball fundraiser go?
I found the set up pretty easy.
Be aware that you will need to file a W9, but your group's leaders or officers should already have this.  (You need this info to raise money with nearly every fundraising company out there for tax purposes.)  If you don't have a W9 on hand right now, it's no problem to wait and send it to them after your fundraiser closes.  So you can still get started right away.
After I set it up, I posted the info to Facebook and we were able to start raising money immediately.  No waiting for booklets or info to pass out as we saw people.
Within an hour we had already raised $93.  By the end of our 10 days, we had earned $740.  And that isn't money that we shared with a company.  The money you earn belongs totally to your group.
Things to Be Aware Of
Your site is only live for 10 days once you begin, so you'll want to make the most of that short amount of time.  You wouldn't want to begin it over spring break or during a time that many people are away from their social media or computers.
Most companies have a cap on the amount of money you are able to raise.  In our case, it was $1,000 in cash.
There's no minimum.  While our goal was to raise the full $1,000, that didn't mean that we had to raise that much to earn any money.  If your team earns $300 (for instance), that's the amount they'll send you.
Find other groups on Pear that are fundraising and click their links to support them.  Then leave them a note with a link to your own group so that they can return the favor!
It can take up to 28 days for your money to come.  Our team got their money in about 14 days.

What Did My Friends and Family Think of It?
Most people had no trouble doing the tasks.  Some of them signed in using their Facebook accounts.  Others aren't on Facebook, so they signed in with email.  Those friends weren't able to do all of the tasks, but they could still watch videos and visit websites.
Our supporters enjoyed the fact that they could do the tasks in less than 10 minutes while watching TV.  They loved not having to buy anything!
No one is required to do a minimum number of tasks.  So if friends signed in and only watched the video, our group received money from that.  But obviously, the more tasks a person does, the more it benefits your group.
If your group needs simple fundraising ideas, but hates to sell things, Pear may be just right for you!
Our team was thankful to get the money they needed to cover uniform costs.  No frostbite from washing cars in February necessary!
Click here to begin your own fundraiser today.
What's your favorite simple fundraising idea?
[schema type="review" url="http://www.mediumsizedfamily/easy-fundraising-idea/" name="Simple Fundraising Ideas for Groups that Hate to Sell" description="Looking for reviews on Pear sponsorship? Check out why our team loved these simple fundraising ideas!" rev_name="Pear" author="Jamie Jeffers" pubdate="2016-03-15″ ]
Summary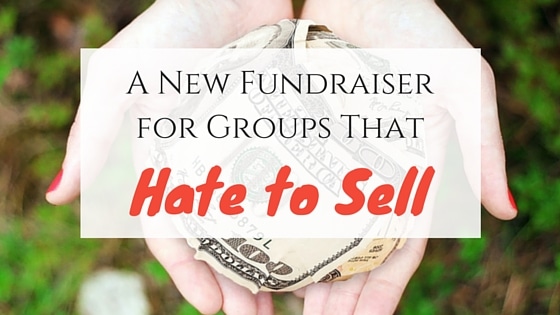 Article Name
A New Fundraiser for Groups that Hate to Sell
Description
Does your team or group need donations? If you hate selling, Pear might be the perfect fit for you. Get simple fundraising ideas for your school, group, or team here.
Author
Publisher Name