Paying bills online is great, because it's simple and saves the cost of a stamp and an envelope.  But there's a special satisfaction in writing a check for the last payment on a loan, isn't there?  You can write something snappy in the memo box, like "So long, suckers!"
Trouble is, these days that satisfying final payment is far off and fleeting for most of us car owners.  We sign on to loans that last so long they might as well have a seat at the dinner table.
If you're getting a loan for a car, you want to make sure you don't sign your life away.  It's not as popular these days, but there is still a way to get it done.  Let's look at the problem and some solutions.
Before we get started, this article presupposes a few things.
You don't have cash to buy a car.  (If you do, I'm flattered that you clicked here anyway! You might prefer this post about pantry challenges, though.)
You can't, or won't, follow the Dave Ramsey plan for starting with a $2,000 car and working your way up.  (Personally, I think that car is going to cost you a ton in maintenance and repairs.  But you might luck into a nice deal.)
You need a car.  (You don't have a lifestyle that supports biking or only borrowing a car occasionally.)
Is that you?  Then let's dive in.
The New Normal in Getting a Loan for a Car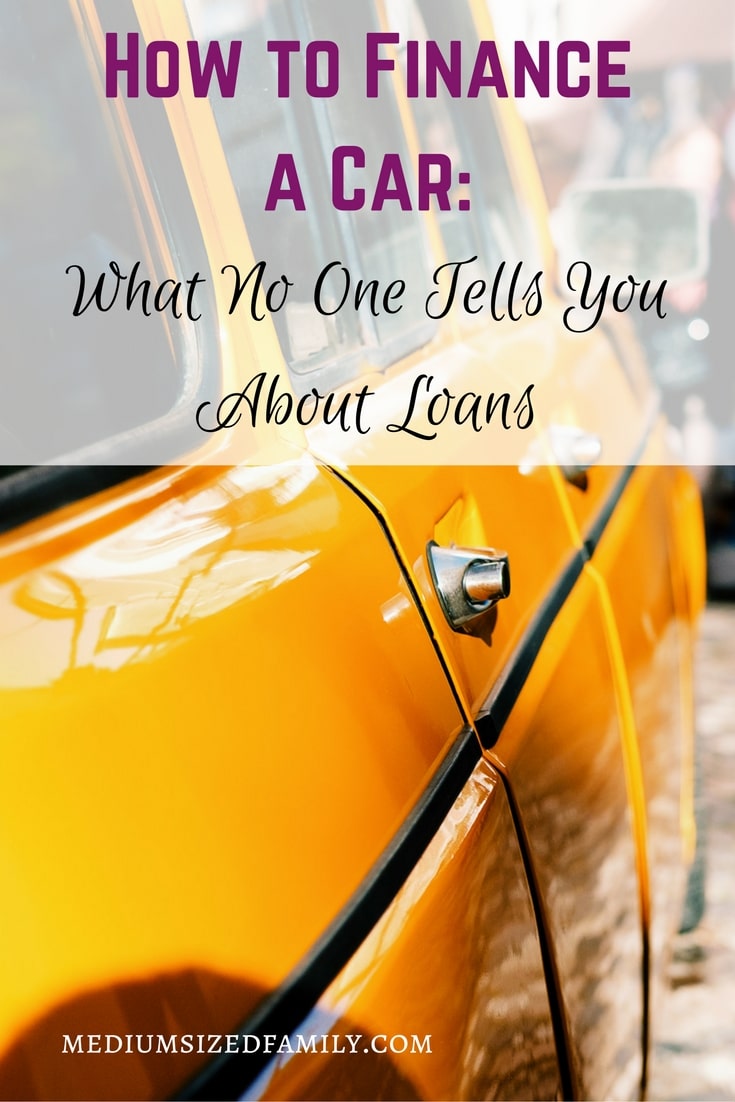 Did you know that (according to this article) the average length of a new car loan these days is 67 months?  And loans for even longer lengths (73 months and even 84 months) make up nearly 30% of all new car loans.
Used car loans aren't much better.  Many of them stretch beyond 5 years.
That implies that people are buying more car than they can honestly afford.  It's no wonder that auto loans topped $1 trillion this year.
[Tweet "Have you signed on to a car loan that will outlast your car?"]
Why are we paying more?
There are lots of reasons for this.  The price of used cars is through the roof.  When we last shopped, we found car lots asking $10,000 for a car that already had 100,000 miles on it.  Who can afford to make payments on a car that will also need monthly repair costs?
If you want a deal on a vehicle, forget cash.  Many dealers make their money by referring you to their banks.  You'll get your best deal by signing a loan at the best rate you can get.
Ideally, you'd sign for a loan with no early payment penalty and then pay it off as soon as possible.  That said, don't fool yourself into thinking you'll pay it off early if you have a history of making minimum payments.
What's the difference?
You probably know that you should pay on a car for the shortest time possible.  But why?
Watch what happens with a $15,000 car loan when you change the length.
(Screenshots from Bankrate's auto loan calculator.)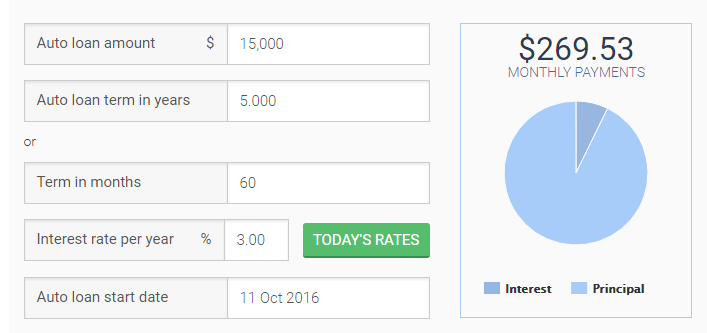 5 Year Loan
This one looks ok.  A 5-year loan like this will cost you $1,171.82 extra in interest.
73 Month Loan
This loan looks more affordable!  Now you can get the car you wanted.
But hold on.  A 73-month loan will cost you $1,429.05 in interest.  You saved $44.47 per month, but it's going to cost you $257.23 more to drive the same car.  Not to mention the extra 13 payments you'll pay the bank instead of yourself.
3 Year Loan
A 3-year loan is cost prohibitive for many of us.  If we're shopping loans in the $250 range, we can't swing $436.22 every month.
But the person who took this loan only pays $703 in interest.  That's a savings of $468.82 over the 5-year, or a whopping $726.05 savings over the 73-month loan!
How can we make the 3-year loan more realistic? 
Look for ways to chop off $1,000 increments.
Begin by negotiating.  You know that  you should never pay sticker price for a car, but some of us are too shy to ask.  Take along someone more assertive if you need to.
Look for a car that is less than $15,000.  Another tip that sounds obvious.  But on a car lot, it's easy to start justifying.  Car A has a couple of awesome features that Car B doesn't have.  When you're spending $14,000, what's another $1,000?
Sacrifice a 4 door for a 2 door.  Give up heated seats or the moon roof.  It's worth it to bring your loan down to 3 years.  With fewer payments, you'll be able to pocket the savings and get the car you really want next time.
Save up a down payment.  Getting a car with no down payment is popular, but it's costly.  Every $1,000 you put down will save another $30 off of your monthly payment.
Ideally, you'll be saving up monthly payments for a bit before you buy the car.  If you can't afford to save the cost of the monthly payments beforehand, how will you afford the payments later?
Sell your old car yourself.  You'll get more money out of your old car by selling it on Facebook or Craigslist rather than trading it in at the dealership.  That's more money you can put down on your loan.
Other ways to lower payments.
Broaden your horizons.  Examine all of your options.  Be sure to look at all brands.  It pays to be loyal, but all of that pay goes to the company (not you).
Shop private sales.  Private sales are nearly always cheaper than dealer prices.  Plus, you can negotiate on total cost rather than monthly payments.
Consider timing.  When buying from a dealer, you might have heard that buying later in the day, month, or quarter will net a better deal.  But I've been told that this simply isn't true.  You'll get the same deal whenever you shop, so don't sweat your timing too much.
Buying from a private seller?  You might find them more motivated to sell at Christmastime, but greedier during tax return season.
Remember these tips any time you're getting a loan for a car.
Choose a shorter term, and bank the rest of the payments yourself.  Soon, you'll have a sweet savings account set up for your next car.  Now tick down the days until your last payment, and start planning that memo line zinger.
Want more money saving tips?  The Medium Sized Family newsletter zips them to your inbox once per week.
Do you avoid car payments at all costs?  Or are they a necessary evil?
Summary
Article Name
Savings Tips You Need to Know When Getting a Loan for a Car
Description
When you're getting a loan for a car, there are things you need to know. Here's how to save money on your next car finance.
Author
Jamie Jeffers
Publisher Name
Medium Sized Family