With the right recipes for make ahead cold lunches, you'll save a ton of cash without using up too much of your time. These recipes are perfect!
You hand your debit card through the drive thru window and get that familiar twinge of guilt.  Yeah, you know you shouldn't be buying lunch every day.
Someone even tried to convince you to do the math and see how much money you're spending on lunches every year.  (Like you need even more guilt!)
It all sounds good, in theory.  The problem is that getting lunch together every day is hard!  You have to find the time to pack something.  And frankly, you're tired of the sandwich routine.
As someone who would "friend" the snooze button if it had a Facebook profile… I get it.  My mornings are always rushed, and getting lunch together for the kids and Hubby is not something I have the time (or brain power) to do.  But in our #yearofno, splurging on bought lunches isn't on our approved list.
So I found a better way.  And you can do it, too!
Here's the key: Spend just a little time one evening or over the weekend, and you'll have lunches for the entire week.  Let me share some ideas that don't take forever to put together but the family will love having them on hand.
Delicious Make Ahead Cold Lunches
Hard Boiled Eggs
When I know life will be busy, but don't even have time to make anything, I put on a pot of hard boiled eggs. It's easy protein on the go, and the kids love this lunch option.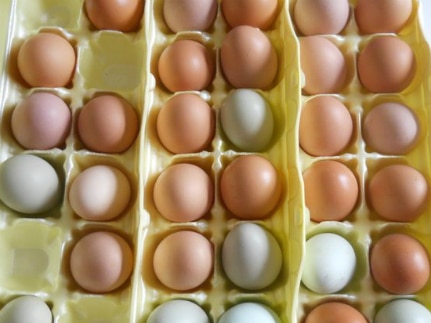 Egg Salad
Have a little more time?  Turn those boiled eggs into egg salad!  Use a favorite old recipe or try something new.  (How about this one that uses avocado in place of mayo?)
Muffins
Muffins are easy and versatile, which makes them my go to option when I'm low on groceries.  Use whatever fruit you have on hand or in the freezer.  These also freeze well, which makes them easy to keep on hand.
You can go for a traditional recipe with affordable ingredients, or find recipes that fit your healthier lifestyle.  There are plenty of recipe options out there!
For something interesting, make corn dog muffins.  I like to use this amazing cornbread recipe and just drop a chunk of hot dog on top before I bake it.
Roll Ups
Maybe everyone is tired of sandwiches!  But if you take similar ingredients and roll them in a tortilla (you can even cut them into pinwheels!) suddenly everyone is a fan again!
Look for recipes using your favorite ingredients on Pinterest.  Or try my Pickle Dip Roll Ups for something a little different!
Homemade Chicken Nuggets
If you can find it in a Lunchable, you can make it work using homemade ingredients.  Whip up a batch of baked homemade chicken nuggets and forget microwaving them.  These things are delicious even cold!
Don't forget about all of those sauce packets you've been saving from the drive thru. Drop one of those into the lunch bag and for an extra treat!
Chicken Pasta Salad
Take some leftover chicken and cut it into cubes.  Add it to pasta salad (use a box if you like or make your own with a recipe like this).  Then divvy lunch portions into individual bowls to make them easy for grab and go.
Chicken Taquitos
Need another way to use up your leftover chicken?  Try these easy Cream Cheese and Chicken Taquitos!  They whip up quickly, taste yummy, and give you something a little different with your lunch.
Pizzas
Who doesn't love pizza?  There are so many ways to use pizza in lunches.  Make a whole homemade pizza and put slices in containers for lunch all week.  Or you could make them with English muffins, sauce, cheese, and even some toppings.
Heck, order a cheap pizza from your favorite place (with a coupon).  I'll never tell.  😉  Plus you're still going to save money over buying lunch every day of the work (or school) week!
Bowls
Take a cue from your favorite lunch places and put together a bowl using your favorite ingredients.  Create a salad based bowl and add toppings that range from a traditional "rabbit food" bowl (lettuce, tomatoes, cucumbers, and more), to spicy southwestern flavors (with beans and corn), to your own favorite seasonal toppings.
You can make a taco salad bowl or find your favorite combo of protein and veggies to create the best flavors.
Soups
Make a big pot of soup, stew, or chili and put it into individual bowls.  Take them with you to warm up at work.  Or you can warm it in the morning and pour it into a thermos.  Done!
These simple ideas for making packed lunch the night before (or even the weekend before!) will make saving money easier than ever!
Be sure to pin this post for later!
Want more tips that make packing lunches easier than ever?  Check out this post!
What's your favorite thing to pack in a lunch?
Summary
Article Name
10 Easy Make Ahead Cold Lunches That Aren't Boring
Description
With the right recipes for make ahead cold lunches, you'll save a ton of cash without using up too much of your time. These recipes are perfect!
Author
Jamie Jeffers
Publisher Name
Medium Sized Family