Doing a few things now can save you a ton of cash later. Just follow this simple checklist and you'll be sitting pretty this fall!
Here's how fall usually goes in our house.
It's hot. It's hot. Still hot.
Then suddenly one morning it's frigid, and I'm doing the "should I turn on the furnace, or can we make it until next month before I cave in?"
And will it start up when I push the button?
Oh, and all the kids are asking me where their warm pants and hoodies are.
Whoops!
Save yourself from those last minute struggles with this simple fall checklist.
Here's Your Simple Checklist to Save the Most This Fall
Home Maintenance
Call your propane company and lock in a price. It won't get cheaper later when demand increases, so do this now! (Next year, make a note to lock in rates in July or August for even better prices.)
Have your furnace checked. A tune up is cheaper than a repair. While you're at it, grab a stack of filters so changing them is easy!
Clean the gutters. Take care of your roof and foundation!
Check your smoke detectors. Really, it's a good idea any time of year to do this one.
Put down grass seed. If you live in the north, your seeds will do better in the fall when there's less competition from weeds. That means fewer times to reseed! (Check for recommendations in your zone.)
Household
Winter gear. Make sure coats and boots still fit and are in good shape. This gives you time to look for good deals on those things rather than rushing out and spending full price on a last minute coat.
Helpful hint! I always shop Ebay for winter boots for my kids. I've gotten good quality boots (by Sorel, Kamik, and other companies) that outlast anything I buy at the store for the same price or cheaper!
Food. Do you have extra on hand? Cold weather means you could be snowed in or have the whole family go down with the flu at the same time.
Here's how we make sure our family of 8 always stays stocked up on food.
Medicine. Speaking of the flu, schedule your flu shots if that's your kind of thing. Whether you get the shot or not, stock up on Sambucol and Vitamin D. Gatorade and Jello are good to keep on hand, too!
Fun
Halloween is coming! If you plan ahead, you should be able to get some cheap costumes and fun decor.
Frugal fun. Many fall festivals are cancelled for 2020, but there are a few here and there still trying to make a go of it. If you know which ones you want to attend, you can look for discounted tickets or Groupons ahead of time.
Squeeze the last bits of summer. Stores are discounting summer things like bubbles, swim gear, and patio furniture. Luckily, we'll still have a few nice days left to enjoy these things.
Just be sure to stick with clearance items you'll actually use. Don't pay 75% off prices for clutter!
And if you want to keep some of these things back as Christmas gifts, your secret is safe with me. (Just don't forget where you hid it!)
How about a free printable checklist?
Just click the photo to open the printable pdf, and you can get started.
A few simple steps will make your fall fun affordable!
Start today and avoid the future stress and expense.
That should give you some time to put together some super cheap (but adorable!) Halloween decor!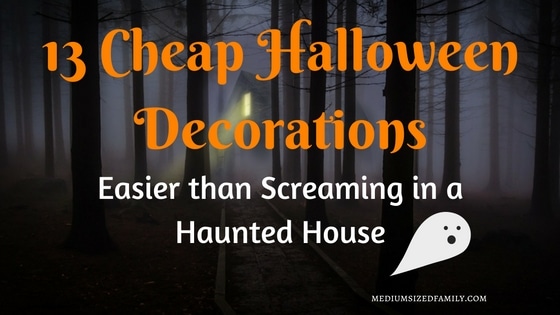 What's something you do every fall?