For weeks I've told you about the money saving book in the works.  If you look forward to this series each week, I think this book will be perfect for you.  It's called 500 Ways to Save Money: Build a Cash Jackpot for the Best Things In Life.  You can learn more about it here.
(But I'll give you a hint…you really want to become a subscriber to Medium Sized Family weekly newsletter.  In fact, I'd join before Tuesday.)  😉
That book was inspired by the 5 Ways We've Saved Money This Week series.  Every week, we record the things we've done to help us reach our goal of paying off debt.  To read back through the entire series, click here.
We are a participant in the Amazon Services LLC Associates Program, an affiliate advertising program designed to provide a means for us to earn fees by linking to Amazon.com and affiliated sites.
The 5 Ways We've Saved Money This Week
Returns
I'll admit, I'm not always great about making returns in a timely manner.  Which stinks, because not only do you lose that money, but you add guilty clutter to your home.
Instead, I made it a point to hit those stores first while running my errands so we could get our money back on a couple of purchase.  One was a gift that I bought on a good deal, but later realized wouldn't be all that loved.  The other was something we found a much better deal on.
Bunny Bowl

My son brought what was left of his bunny bowl to me and told me we needed something new to feed her from.  I made a note on my phone to pick up a glass or metal bowl the next time I went to the feed mill.
Then I started wondering what I had on hand that would work instead.  I came up with a short mason jar I had bought a while ago.  It was the perfect size for feeding the bunny.  (But these jars also make adorable gifts if you fill them with a body scrub or yummy treat!)
House Plant
Winter time and dreary weather can be a bummer.  House plants are a good way to bring a little life to the darker season.  So when my sister-in-law offered to separate a house plant for us, I jumped at it.
These hen and chicks are cute, but not fussy.  And best of all, they were free!  In return, I'll separate off some of the Wandering Jew plant we have.  It's nice to be able to pass along a gift like this.  You can spread joy without spending cash.
Toys R Us
If you become a Rewards R Us member, you'll get birthday freebies for your child each year.  This includes a card with a $3 off $3 coupon.  Since I don't like the idea of more little clutter, I usually use this coupon to save money on their birthday gift.
Plus, you can earn rewards on every dollar you spend at Toys R Us.
Gift Tags
Gift tags don't cost much, but we prefer to print freebies.  It's extra nice to print tags that match your personality.
Those are the 5 ways we saved money this week.
I'll be taking off next week for Christmas (and a birthday!).  So here's wishing  you a blessed Christmas!
Are you considering your own #yearofno for the new year?  Here's how to pull it off.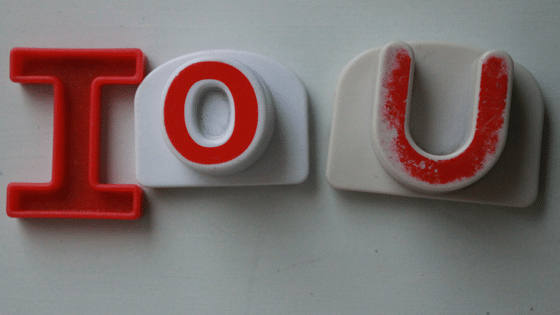 How did you save money this week?