Grocery shopping is a mindful process for the frugal.  I've shopped at a bigger chain for years, because between coupons (they often send me coupons for $20 off my purchase!), discounted gas, and deal stacking, it's worked great for saving my family a ton of money.
But lately I'm starting to wonder if I wouldn't be better off finding the time to shop at Aldi instead.  Is it just me, or are grocery prices climbing again?
I'll let you know how this goes and if shopping Aldi is a money saver for our family of 7.  I have shopped at Aldi in the past, but it hasn't been my "go to" grocery store for years.  So if you've got any hot Aldi tips, leave a comment!
Every Friday I write about how we saved money this week.  It's a great post for me, because it keeps us motivated to go, go, go on our #yearofno (we're spending very little while we pay off debt!).  I hope it inspires you to find extra ways to save money in your own home.
If you love money saving tips, you can read through the entire series here!
The 5 Ways We've Saved Money This Week
Apple Cinnamon French Toast Casserole
This casserole is pretty easy to put together, but be careful.  Smelling it while it bakes is torture!! I love it, because you can use those imperfect apples you found on clearance.  That makes this a frugal choice for breakfast.
Hallzooween
I've said it before, but I just love our zoo membership!  It's one of the few places that offers a flat family rate rather than charging for individual passes.  That's a must with a medium sized family like ours!
We were able to do just a little trick or treating there.  It gave the little ones an extra chance to wear a costume.  And we even got to see a cheetah race!
Crock Pot Taco Soup
We were invited to a family birthday party over the weekend.  I knew the timing would be tough, because we'd get home in time for a late dinner (but everyone would be tired and crabby).  That stews up the perfect situation for ordering a pizza and plopping on the couch.
But we don't do that anymore!  So instead, I put together a quick pot of taco soup and left it in the crock pot while we partied.  Coming home to a pot full of hot food feels like a vacation.  It's all the benefits of ordering out without the extra money and calories!
Chuck E Cheese
Every October, our kids get a random day off of school for a teacher in service day.  Since other schools in our area are in session on this day, it's the perfect time to visit the pumpkin patch.  Usually we enjoy the place with hardly anyone else around!
But this time, the weather didn't cooperate.  I don't want to complain about rain since our area has had drought like conditions for weeks.  (Our well went dry, which has made watering our goats an adventure!)  But it did alter our traditional plans.
Instead, we headed to Chuck E Cheese.  I never go without checking for coupons first.  For less than we'd have spent at the pumpkin patch, we had some fun playing arcade games on a rainy afternoon!
Jack O Lantern
Of course, Chuck E Cheese doesn't sell pumpkins.  So afterwards, we headed across the street to a fun local grocery chain.  Right inside the door, we found a crate filled with giant pumpkins.  Even better, they were half the cost of our pumpkin patch!  Everyone chose a pumpkin and we had a fun debate about which pumpkin was best for carving.  In the end, we brought home a winner everyone was happy with.
Those are the 5 ways we saved money this week!
We're enjoying Halloween traditions without spending a fortune.  You can have all kinds of fun for less money than you think.  In fact, here's a whole list of cool things you can buy for under $10!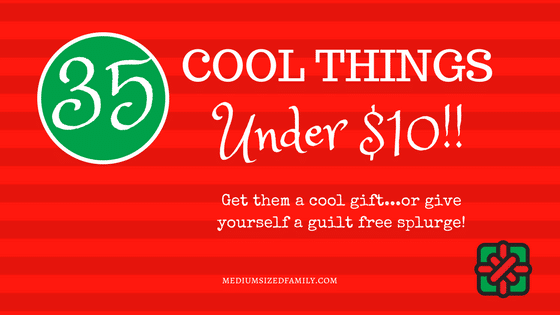 How have you saved money this week?